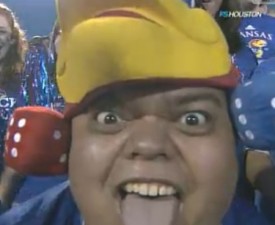 Offensive Focus: Power, Play-action, Quick Passing Game and Formation
It was good to get the Sunflower Showdown back to what K-State fans came to enjoy throughout most of the 90s and early 00s before Kansas decided to hire, and then get rid of, the best football coach they ever had.  Once again an over-matched Jayhawk team took a beating, and Bill Snyder showed why he can be one of the best play callers in college football.  In his most well called game of the year, Snyder's mix of power running game with short passing and play action put the Jayhawk defense on its heels.
The first two drives of the game only netted a FG, but the pattern was set that would eventually put the KU defense in a bind and lead to six consecutive touchdown drives.  As always, K-State came out with multiple formations and personnel groups, using 5 different looks in the first 10 plays, opening the game with a play-action boot pass, several quick pass routes to the sideline and on bubble routes, and mixing in a few 3 step drops.  Then in the running game some power and zone-lead mixed with a couple poorly executed speed option runs.
The first touchdown drive of the game featured more power and zone-lead football, running right at the Jayhawk defense.  But blended in well was another naked boot pass, a couple 3 step drop routes, triple option zone read, and finally a well executed option on a huge 4th down play at the goal-line.  The highlight on the TD run by Coffman was excellent blocking by McDonald at the point of attack as the big TE (the previous speed options were run to the TE as well) was able to finish off two blocks on the edge, leaving Wilson no one to block as Coffman finished the 8 yard run.  The play was set up well because we executed much better against KU's scheme compared to the first two speed option runs that were both negative plays.  KU was sending a defender quickly to take away Thomas and the pitch, but this time K-State blocked the QB defender, leaving a big lane for Coffman.
The 3 drives to finish the half all featured aggressive opening plays after gaining a huge field position advantage; first off the Brown caused fumble and the Zimmerman return, the 2nd after stopping KU on downs near mid-field, and the 3rd after pinning KU deep and forcing a 3 and out, setting the Wildcat offense up at midfield.  For the first drive Snyder dialed up a reverse off of speed option, narrowly missing out on a huge play for Quarles on the left edge.  The 2nd and 3rd drives both opened with vertical routes by Harper off of zone-lead play action, resulting in a deep post with a great catch by Harper and a wise decision by Coffman on the 2nd not to force a throw; eventually tucking the ball for positive yards on a scramble.  All 3 drives resulted in TDs for the Cats, again using a variety of play calls and personnel groups to score.  Coffman runs on QB power leads and zone read, inside zone featuring Thomas, and to end the half a lot of power and zone-lead football right at KU's defense.  This lead to a big play action pass off zone-lead to a wide-open Tannahill for the score.
The opening drive of the 2nd half would feature more of the same, utilizing essentually every effective play we saw in the first half; power running, quick passing game to the edge with bubble, inside zone, and finally a naked boot pass to another wide open TE, this time McDonald.  At this point the route was on.
One of the interesting wrinkles I noticed was the alignment of the FB from the 3rd through the 7th drives.  While we often align Wilson various places, on the 14 of the 34 plays we lined Wilson up as a wing, behind the TE, and used various motions to set up the power and zone-lead running game, and the play action off of that.  Again, it may not seem like a big deal, but the offensive staff definitely saw something KU gave with this alignment, and we utilized it frequently to take advantage of a weakness in their defense.  I also really liked the mix of passing game, but Snyder did a great job of setting Coffman up to be successful.  Quick routes to the edge or bubble, 3 step drops that Coffman made great decisions and reads with, and a mix of zone-lead and boot play action passes.  All of these put a ton of pressure on the defense because they are forced to stop Thomas, but all of them also are pretty simple reads for the QB, and as long as he makes good throws (and he did) you are going to get a lot of positive plays.
What this means for Baylor
This should bode very well for our game in Waco.  Like KU, Baylor utilizes a 4-3 defensive look, though they appear to be much more aggressive.  Baylor's biggest play-makers on defense are an undersized weak-side LB and an aggressive strong safety.  They have 2 huge defensive tackles as well.  But CU, though a much different team than us personnel-wise, did have quite a bit of success on things we like to do also; power running game, inside zone, short passing game, and play action.  We don't need Coffman to be nearly perfect like he was against KU; but we do need him to make the good decisions and reads he made in Lawrence, but as I said, a lot of that will be set up by Snyder's play-calling.  If we do this and avoid costly mistakes, especially turnovers, our offense should be able to put up points against a decent (but far from great) Baylor defense.
The Big Concern in Waco
The biggest problem (as we all know) will be defending a very fast Baylor offense.  The thing Baylor's offense does the best is spreading you out andthen making you defend from side-line to side-line.  They really don't look to throw down the field a bunch (at least they didn't against CU), but they do a great job of attacking creases in the defense.  In the passing game look for Baylor to throw bubble routes, slip screens, and quick slants, out of mainly 3 and 4 wide formations, at least 15 to 20 times.  Then they will run zone read, mostly the triple option look with a receiver running bubble for pitch.  Against CU's 4-3 look, their zone read sent the RB Finley off tackle, and Griffin up the middle, often pulling a guard around the center to add an extra blocker on the inside LB for CU.  This led to a ton of big runs for the Bears as they averaged nearly 9 yards per carry.  Finally, they mix in a bit of power running game, empty, and play action off of zone read; but if you don't at least contain the quick bubble/slip routes and zone read, those other things really don't matter.   Though their schemes are much different, personnel-wise Baylor is similar to the CFU offense.  Griffin is an explosive runner, Finley is a solid back, and they have quality recievers with speed.  Their skill set and scheme will provide a big test for our defense this week.
Reading that probably doesn't fill Wildcat fans with confidence, and given our defensive problems this will be a stiff test.  We did handle KU's offense very well, but they are completely different.  Even though they ran zone read a ton, the QB was never a threat and Webb didn't run the ball one time.  We handled KU's edge plays well, bubbles and jet sweeps, but again, they didn't put as much pressure on us from the QB spot.  KU tried to go vertical in the passing game much more than I expect Baylor to, especially since we defended it very well in Lawrence. 
I will also say that Colorado did some stupid defensive alignments, being far too aggressive at times considering their personnel, and often Baylor exploited this for big plays.  IMHO the key in Waco, as much as we hate to say it, is stay patient with a bend but don't break philosophy.  One of Baylor's biggest weaknesses is that they are prone to mistakes; penalties, poor read by Griffin, and several of their skill guys (especially Griffin) carry the ball very loosely and are prone to fumbles.  If we can keep their speed in front of us, I think we can eventually force a mistake and limit their offense.  Baylor will have plenty of yards, I fully expect them to put up 400+, but we can keep this team in the 20s, similar to UCLA, ISU and CFU, if we stay patient on defense.  Do that, and it really comes down to the offense taking advantage of every opportunity and consistently putting points on the board.
This game will probably come down to the last few possessions.  With bowl elgibility on the line for both teams, its unfortunate this game won't be on TV.  It will be interesting to see if the Cats can get their 2nd true road win in a season for the first time since 2003.