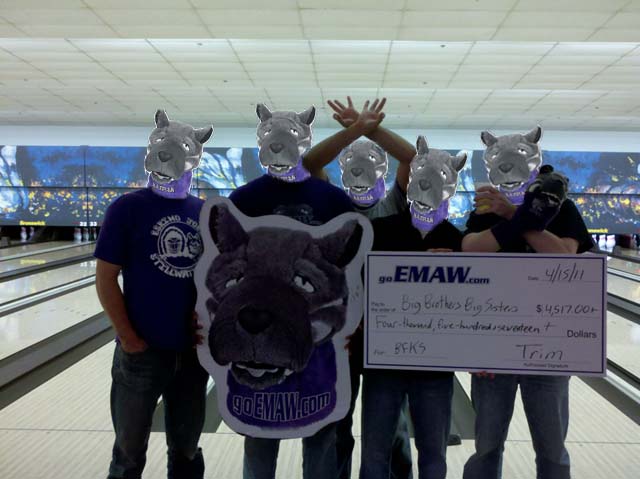 Coming off the success of AvivoPak, the goEMAW BBBS bowling team entered their scheduled event with a balance of $4,517 raised for Big Brothers Big Sisters. goEMAW dominated the evening, both on the scoreboard and the accounting ledger.
Your humble author frankly got fairly pak'd, so I'll be posting details of the evening in the BBBS thread on goEMAW.com. I'll need the other pak'rs to help plug in some details. I don't remember putting on our pak head masks, let alone hanging the banners and then taking the giant check to Manhattan.
There's still time to donate. We gathered we're a little less than $3,000 behind the leading small company, Eby Construction. We met Mr. Eby at last night's event and he took great pleasure in telling us they were "Boomer Sooners" and that they didn't anticipate planning losing their championship to a bunch of purple pussies, notwithstanding him immediately running out the side door before I could execute a chokeout.
Once again, donations large and small can be made at the following links:
Trim: http://kan.st/8w
MIR: http://kan.st/8x
Gooch: http://kan.st/8y
Johnny Wichita: http://kan.st/8I
Don't forget, we have a number of prizes that will be raffled off to the donors, including gift certificates to Houlihan's in Manhattan and the Michael Beasley signed basketball. Details are in the thread on goEMAW.com.
T-Y,
Trim