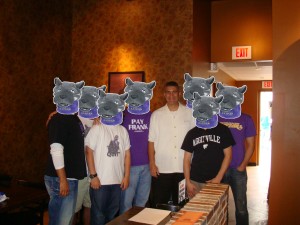 May 1, 2010 featured an elite pak for the ages, despite being hastily organized just hours prior to the event. Upon learning that Frank Martin, Denis Clemente and Luis Colon, all of the Big 12 Champion Kansas State Wildcats would be signing autographs at Wichita's "Sports Time Fan Shop", goEMAW sprung into action. Johnny Wichita secured prime seating at WichitaPizzaCat's Avivo Brick Oven Pizzeria, which happens to share private entrances with Sports Time.
The Wichita Pak'rs assembled with an array of unique items for signature – the giant pak head, a picture of "Angry Frank" complete with "WHAT THE FUCK" caption, picture of Frank with the VegasPak'rs, etc. – before finding that the Sports Time management had lined up hundreds of EMAW with the intent of herding people through as quickly as possible.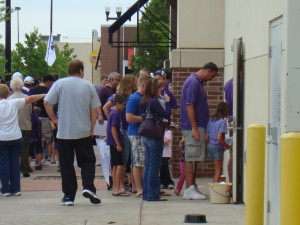 It should be noted that the hundreds of EMAW included this poor soul, who apparently decided to come pay homage to the Champs.
The Wichita Pak'rs wanted more than watching these heroes quickly sign a head shot. Contact was made with our own JMart, who sent word to Frank that the Elites were next door awaiting his arrival. WichitaPizzaCat then led the pak to the service entrance where we were able to properly welcome the Champs. Frank confirmed JMart had let him know of our presence and that he'd be over following the autograph session.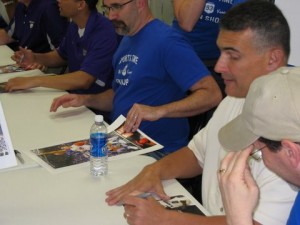 Towards the end of the alloted time, with most of the sheep cleared out, Johnny Wichita, goEMAW Kid Cole, WichitaPizzaCat and I proceeded through the line. Johnny Wichita went first presenting Frank with the aforementioned "WHAT THE FUCK" portrait. Frank contemplated whether he should sign it for a few seconds before agreeing that JW had properly quoted him and happily signed it.
He was then presented with the picture of himself and the VegasPak'rs which brought a smile to his face. That was followed by Frank's up-close introduction to the giant pak head. Frank's face reflected awe and respect. I informed him that this is what he might have noticed across the way in Section 17 of the OOD. He grasped giant pak head and said "this is big time". Next in line was Denis who took extra time to admire the picture of his end-of-game layup vs. Mizzou along with the giant pak head.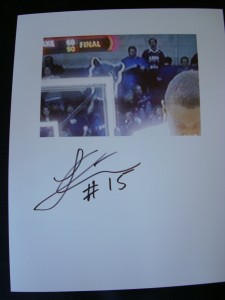 Finally Big Lu was presented a picture of the screenshot from the end of the BYU game in which Lu was shooting a free throw with giant pak head in the background. He seemed befuddled until I pointed out that in the picture was him (with me then pointing at him) and this (with me then pointing at giant pak head). "OHHHHHHHHHHHH". He was pleased.
Our crew took our bounty back to Avivo and awaited Frank's arrival. Shortly after 4, he made his appearance. BBF$$Kat presented him with a bottle of wine for his wife. He greeted each and every Wichita pak'r and expressed his gratitude for our support. We discussed his future plans for visiting Wichita, which now include dinner at Avivo, as well as potential IBA games. During this meet-and-greet, Frank was finally able to put some faces and one name – goEMAW – to the whole Section 17/PAY FRANK movement.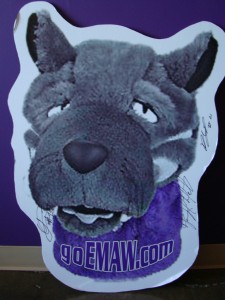 I also took the opportunity to spend some quality time with Denis and present him with a half-dozen or so photos of some of goEMAW's most famous paks all featuring the Puerto Rico flag (which I was wearing this entire time as per usual). Denis seemed truly honored that the flag of his homeland has been prominently displayed across the country, no matter how racist a low-level Gordon Biersch waiter might be.
All in all, a fantastic pak. Fantastic food supplied by WichitaPizzaCat, great turnout from the Wichita Pak'rs on extremely short notice, and fuhnomunul stuff out of the Champs.