"I certainly am awfully proud of Cantele. There was a great deal of pressure on a young guy like that and everyone else than was on the field goal unit." – Bill Snyder
About the only thing K-State's last game winning FG had in common with Cantele's against TCU was that it occurred on a windy, mild November day 33 years ago. It was a much different time then; K-State had never been to a bowl game and only 17,500 fans watched Jim Johnson's game winning kick that gave the Cats a 17-14 win. The 17 yarder with 1 second left brought the Cats their first Big 8 win of the year and their 3rd of the season (Well, technically their 4th, a 20-18 loss to KU was later declared a KU forfeit because the Jayhawks played an ineligible player.) These types of seasons were common in Manhattan then as the Wildcats had only won more than 5 games in a season once in the previous 25 years and had been ranked for a total of 6 weeks in their 68 year history to that point.
K-State's current season resembled what fans saw in 1980 through the first 6 games this year, but Cantele's kick continued an impressive turnaround and a 4 game winning streak. The win against a talented TCU team trying to salvage bowl eligibility didn't come easily and the offensive production was a mixed bag. Big plays and solid play in stretches led to scores on 7 of 13 offensive possessions, but the other 6 drives featured 18 plays that gained only 31 yards and led to two TOs and four 3 and outs. K-State continued the quarterback rotation with an effective day running from Sams and some timely big pass plays from Waters, who at times struggled throwing the ball. Even with numerous poor stretches of football, K-State's offense managed to produce more points per play and yards per play than any TCU opponent this season and as a result the Cats secured bowl eligibility for the 4th straight season.
Personnel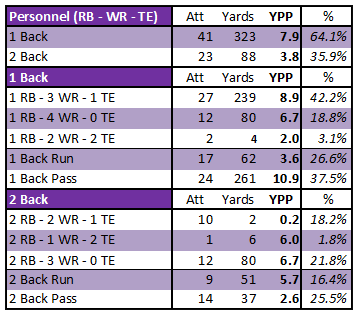 Last week's _FANalysis discussed how K-State's game plan going into the Texas Tech game featured the use of a single formation that brought lots of success during the course of the game. This week the results were quite different and K-State was forced to use a wide variety of formations.
The chart does show that K-State featured 1 back sets against TCU and the same personnel group of 1 RB/3 WRs/1 TE (from last week) brought the most success, but it was a much more diverse set of formations. K-State used four different formations to run 27 plays with this personnel group and none of those formations was used more than 11 times. In fact, the most successful formation was only used 4 times and featured a slight twist on how the Cats typically use 1 TE with 3 WRs because in these sets Trujillo was lined up in the backfield where the FB usually lines up. Both 70+ yard pass plays came from this set, but it would be a stretch to say the formation influenced those plays much because on one the CB bit on a great route by Lockett and on the other the CB tripped after his feet got caught up with Thompson. The passing game from 1 back formations was very successful overall, but notice the running game failed to reach 4 yards per carry from these sets.
With two back sets, K-State continued to implement its heavy package with both Nemechek and Gronk in on 8  plays (12.5%). K-State's most successful 2 back formation was a 3WR set with no TEs and the 2 back running game was considerably more successful than the passing game. Also of note for personnel, Hubert and Sams were only on the field together 5 times (4 on the last drive) or 19% of the snaps Sams was in the game.
Play Calls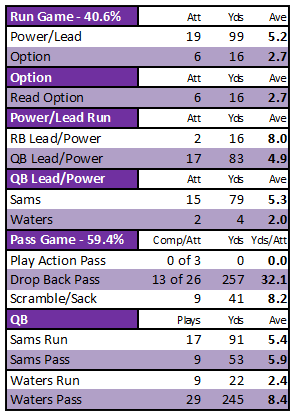 Following a week that saw K-State call run plays 70% of the time, the balance nearly flipped this week with run calls on 40.6% of the play calls. This week the running game was far more successful with Sams on the field as run plays gained 91 yards on 17 carries (5.4 YPC) compared to only 22 yards on 9 calls (2.4 YPC) when Waters played. Sams feature play was (once again) QB lead/power for a season high 57.7% of his play calls. Power/lead was the only really effective running play on the afternoon as read option only averaged 2.7 yards on 6 snaps.
Waters had one of his poorest completion days of the season at only 41.7%, but the two big pass plays contributed to a solid yards per attempt of 9.8 to go with 2 touchdowns. He also had the longest run of the day for K-State with a 19 yard scramble on a pass play call. Waters also had two big throws on K-State's drive for the winning FG; a 28 yarder to Sexton and 12 yarder to Lockett.
Conclusion
The QB balance was more even this week with a 60-40 split for Waters. For the first time in a while, K-State's coaches seemed to struggle finding a rhythm with the use of the QBs for large stretches of the game, though part of that was facing one of the Big 12's best defenses. Also, K-State's offense created more problems of their own than they have in several weeks, namely some key dropped passes and holding penalties. However, after losing leads in 3 games in the 4th quarter this season, K-State finally found a way to step up and make the necessary plays to win one against TCU.
And for the first time in 33 years it was the leg of the kicker that led to the game winning points, but this time in a much more memorable season.