"I mean, like I said, this one more than the others, we knew what they were going to do, and they came right at us and we couldn't stop them and we didn't have answers.  We have to evaluate personnel, evaluate scheme, and try to finish off the season on the right foot." - dreamy first year Tech Coach Kliff Kingsbury
After what seemed like years  of struggles against Texas Tech, the post Leach era has been much kinder and lately Cat fans have been able to sing Mac Davis' 1980 country hit and mean it. This week's scheme was fairly simple and this week's blog will point out that K-State found a fairly common formation that gave Tech's defense all kinds of fits and led to multiple big plays, especially in the running game.
Personnel Breakdown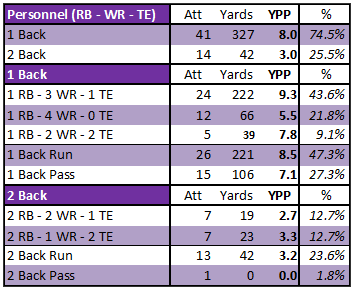 As _FANalysis has shown the last several seasons, Bill Snyder is known for his wide use of formations and personnel groups. While still using a variety in Lubbock, Snyder and his staff found a particular formation that Tech struggled the entire game to stop, starting with Hubert's early 63 yard run.
The formation K-State used most in the game features 3 WRs, 1 TE, and 1 RB with 2 WRs split to one side of the formation and a TE with a split WR to the opposite. The QB aligns in the shotgun with the RB beside or in a pistol set. The Cats used this formation 23 times (42%) and gained 209 yards (9.1 yards per play). If you watch Hubert's big run on K-State's 2nd play, you can see that K-State simply has a numbers advantage to the short side of the field, especially with the counter trey run scheme (see this post from last year vs Tech, #3) which pulls the 2 uncovered offensive linemen to the play side. As discussed in last year's post, it has the look of read option, but is really a power running play.
19 of the 23 plays from this formation were runs (3 were the run/pass option with a seam route) and those runs gained 173 yards (9.1 yards per carry). While K-State mixed in a lot of other different formations during the game, Snyder/Dimel/Miller consistently came back to this formation and it was used in every meaningful drive against Tech. K-State also mixed in some 4 wide formations (instead of 5 WRs, both of K-State's play from empty formations included Hubert split out) and a mix of 2 back formations, mainly in short yardage situations.  Twice K-State used 2 TE sets with Nemecheck, Gronk, and Sams in shotgun on 3rd and short. Both times Sams picked up 1st downs. Nemecheck and Gronk were also used together with Sams in a couple 2 WR/1 TE formations.
Play Calls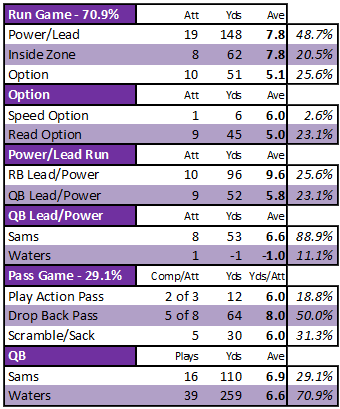 After Tech's defense was destroyed in previous weeks by opponents running the ball, it was nice to see Snyder not over-think the game plan and come out trying to throw. Instead K-State focused on the run more than any other game this year (Baylor was 65% run by comparison) and had a lot of success. K-State mixed in the usual read option and lead/power running game, but the last few games have also featured several 1 back inside zone runs where Hubert is a single back and runs the ball without a lead blocker or pulling offensive lineman. Essentially he finds the gap in the defense on his own.
When Sams was in the game, he was used a lot in Snyder's single wing quarterback running game running behind fullbacks and pulling linemen. The biggest change this week was going away from the delay/counter action that had so much success against Baylor, but was often blown up against WVU and ISU. Instead, Sams was attacking and hitting the hole much quicker (like the example above) and as a result he was much more successful on his runs.
The passing game against Tech was very limited, with only 11 pass attempts and 16 total pass plays called. 5 of the pass plays called were run/pass options and 3 of those turned into runs that gained 31 yards. While the passing game didn't have the big down field throws that we've seen in other games, 5 of the 7 completions covered at least 10 yards with Waters' TD throw to Thompson the longest at 20 yards.
Finally, this week the Waters/Sams play calls got bit out of balance, though 4 of the 5 touchdown drives in the first half saw both quarterbacks. Plus, the only offensive touchdown drive of the 2nd half was led entirely by Sams. The 2nd half was largely unsuccessful for Waters, but the play calling also got out of rhythm and the Cats were protecting a 3 score lead after halftime.
Conclusion
Continuing the offensive improvement of the season, the Tech game was the most successful first half game plan and payed big dividends in a blowout road win. The ability of both quarterbacks to a) limit turnovers and mistakes while b) accepting and thriving in a system that plays both of them is a credit to both Sams and Waters as well as the coaching staff. I never imagined this system working as well as it is right now. I'm sure we'll see games the rest of the way where Sams ends up with more snaps than Waters and likely by the end of the season their snaps in Big 12 play will end up even. With continued solid play by the defense and improving offense, this team looks to be on pace to finish the season better than any K-State fan could have imagined following the disappointing loss to NDSU.
Row the boat, saw the wood, and (eventually) win football games.