The quarterback issue at K-State has had plenty of discussion this season, and for good reason. A frustrating loss to begin the year which featured limited play from Daniel Sams only got things started. Then the infamous Waters' butt fumble in Austin, followed by close losses to OSU and Baylor where Sams played a lot, and finally a couple league wins with nearly equal play from both quarterbacks. In spite of those wins, the Cats sit at just over the halfway point of Big 12 play and the quarterback situation has seemingly only become more muddied. Sams and Waters have both had their fair share of opportunities and through 5 conference games their snaps are nearly identical; 168 for Waters and 165 for Sams. This breakdown will look at how each has been used in conference games, give a glimpse of what appears to be their strengths and weaknesses, as well as what each has produced on a drive by drive basis.
Daniel Sams in Big 12 Games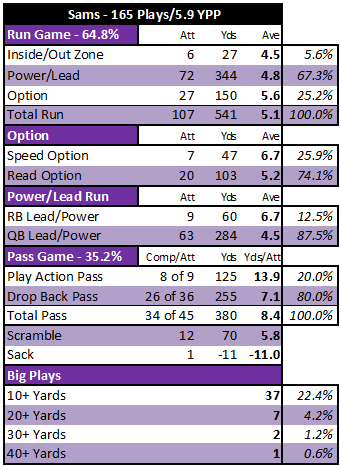 Not surprisingly, when Sams is in the game, K-State is a run first team with the bulk of his snaps (over 40%) coming on some form of QB lead/power. In Sams' best running game of his career against Baylor, 20 of his carries were on QB lead/power plays gaining 125 yards for nearly 6.3 yards per. However, he ran the same play type 11 times against WVU for only 8 yards, so he can bottled up. Sams has shown the ability to be effective in the option running game as well, with option runs (including Hubert/Rose) gaining 5.6 yards per carry.
Sams has also shown to be a more than adequate passer, completing 75.6% of his passes at over 8.4 yards per attempt and 4 touchdowns. Sams also has 4 interceptions on his 45 attempts. The biggest plays in the passing game have come from play action, namely a 67 yard touchdown throw to Gronkowski on Snyder's new favorite play, the run/pass option seam route. Sams has also been excellent in avoiding sacks, plus has picked up an additional 70 yards rushing on scrambles and keeping the ball when the receiver is covered on the run/pass option seam route.
Finally Sams has been solid in generating big plays with over 1 out of every 5 plays at quarterback gaining at least 10 yards.
Jake Waters in Big 12 Games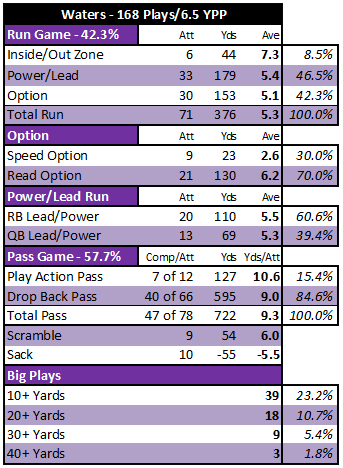 Its also no surprise that the Waters 'play calls have featured the passing game and nearly 40% of Waters' snaps have been drop back pass attempts. However, he's been solid in the running game with a near equal mix of option and power/lead running plays. His least effective play has been speed option, much of that coming against Texas when K-State ran it 7 times with Waters in the game for a total of -2 yards and a turnover. Waters has been effective in the QB power/lead running game, but has 50 fewer carries on those play calls compared to Sams. K-State has more power/lead runs with Hubert when Waters is in at quarterback compared with Sams, and while not quite as efficient, those plays have still gained a respectable 5.5 yards per carry.
Waters has been an effective passer in Big 12 games, completing 60% of his throws for 9.3 yards per attempt. However, his only 3 touchdowns came against WVU. While he has avoided the interception problems he faced early in the year, his passing game isn't generating a lot of touchdowns. Also, Waters has been much more prone to sacks when compared to Sams.
One of Waters' biggest strengths has been generating big plays in the passing game. His 39 plays of 10+ yards is similar to what Sams has produced, but 10% of his plays have covered at least 20 yards and 5% at least 30.
Drive Chart
Another effective way to compare the play of the quarterbacks is to compare not just play by play, but what each has produced on a drive by drive basis. This was somewhat difficult to assess as Snyder often rotates them in the midst of a single drive. To keep things somewhat simple, I gave each quarterback credit for a drive in the chart when they played 2/3 of more of the snaps, but there were also 4 drives where they nearly played equally. Sams had 19 total drives in which he was the only quarterback who played while Waters had 24.
While Sams led drives have been more prone to turnovers (to be fair, not all the fumbles were lost by Sams), Waters has definitely been more prone to have drives end in punts, especially the dreaded 3 and out drives. Sams hasn't had one 3 and out in Big 12 play. Sams has also been more effective in finishing drives with points; scoring 10 touchdowns compared to 6 for Waters. Also, Sams has led more lengthy drives, with 10 of his drives covering at least 8 plays, compared to 5 for Waters. Probably more by coincidence than anything, 3 of 4 drives where the two quarterbacks played nearly equal snaps resulted in touchdowns.
Conclusions
Any set of statistics can be made to say whatever the interpreter wants to be said; the attempt here has been to present the numbers in an organized way with a few observations. Overall, each quarterback has had really effective stretches, but also plenty of mistakes. My conclusion (to this point) is that neither quarterback has done enough to win the job outright, even though I think the team will eventually be better off if one can do just that. Sams probably has the slight advantage through 5 games and I think the drive charts show that. However, I think he's made enough mistakes combined with good play from Waters for the quarterback situation to continue to be unsettled. The key for the rest of the season starts with minimizing turnovers and if each quarterback can do that to an adequate level this team will likely be bowl eligible. Then, if each (or one) quarterback can go beyond that and improve efficiency in scoring, this season could see one of the best turnarounds by a K-State team ever.
Discuss this on the message boards: Link.