I decided to be ready for whatever comes and a lot of playing time came today. It felt good to do it, but we came out with three interceptions so you can't beat anybody doing that. - K-State quarterback Daniel Sams
K-State's trip to Stillwater featured a significant change on offense with Daniel Sams receiving 86% of the snaps at quarterback. Many fans had been clamoring for the change and a lot of good things came as a result, namely K-State controlling the football for over 35 minutes. However, the turnover problems that have contributed significantly to K-State's 2-3 start showed up again as OSU won the turnover battle 5 to 1. The Wildcats also committed 12 penalties for 92 yards (2nd worst since Snyder's return) and largely due to Lockett and Thompson missing most of the game, averaged only 13.14 yards per kickoff return after averaging 23.8 coming into the game. K-State's defense played well for most of the game, helping to overcome three 2nd half turnovers by forcing 3 field goals, but also gave up a 6 play, 75 yard touchdown drive that covered less than 2 minutes following Sams' touchdown run to take the lead with just over 6 minutes remaining.
Personnel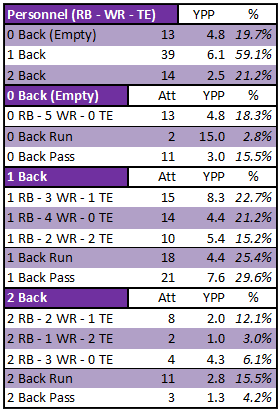 The Wildcats were without Tramaine Thompson and lost Tyler Lockett to a hamstring injury early in the 2nd quarter, but even without their best 2 receivers, K-State still spread the field with 4 or 5 receivers on over 40% of the snaps against OSU. Curry Sexton, Torell Miller, and Kyle Klein all stepped up, combining for 13 catches and 134 yards. K-State used empty formations on nearly 20% of the snaps in Stillwater with modest results, but a nice variety of 1 back sets produced an impressive 6.1 yards per snap. Those 1 back formations provided nice balance between the run (4.4 yards per play on 25% of the total snaps) and the pass (7.6 yards per play on 30% of the total snaps). Once again, 2 back sets weren't used much, and were mostly unsuccessful against OSU, only gaining 2.5 yards per snap on the afternoon (to be fair, 2 of the 2 back formation snaps were taking a knee before halftime). Waters' limited snaps matched the percentages for the game, though 2 of those also included Sams on the field; once in shotgun as the running back, and once under center as the tailback. Those 2 plays only gained 1 yard, a short Sams run.
K-State's mix of formations changed quite a bit as the game went along as well. For example, K-State used 1 back, 2 tight end, 2 receiver formations on 8 of 11 snaps on their final touchdown drive of the afternoon that ended with a Sams touchdown run in the 4th quarter. They had only used that formation on 2 previous plays, but they found success (much of it on QB power/lead) and stuck with it. It is clear that the preference with Sams in the game is to spread the field and create more vertical creases in the defense. Saturday brought mixed results, but if Snyder chooses to stay with Sams as his main quarterback, I would expect that trend to remain for the rest of the season.
Play Calls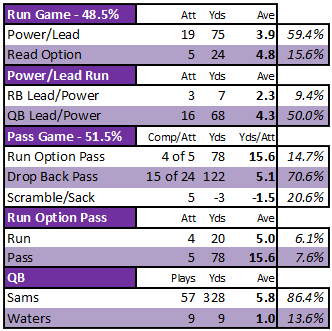 Perhaps the biggest surprise from Saturday's game came in play selection, as K-State used called pass plays on over half the possessions. To be fair, 9 of those snaps were from a new wrinkle that we've seen from K-State occasionally the last few years, a lead/run look with a seam route option (more coming this week in _FANframes). These plays had only been used a handful of times before Saturday, and its clear the coaching staff really likes these with Sams in the game because of the defensive tendency to put numbers in the box. 4 of those plays became Sams runs, but 5 were throws, including the big touchdown to Gronkowski. Sams really seems comfortable with these routes which feature one quick seam route, usually from the tight end or full back, but allow for a quick read and run option if the receiver is covered.
Snyder/Dimel/Miller still called a significant amount of drop back or quick passes with 29 calls resulting in 24 throws and 5 scrambles/sacks. This was the call on the majority of Waters' snaps; on 7 pass calls he went 3 for 6 for only 11 yards and had the sack when he also fumbled. Sams had 22 drop back pass calls; he went 12-18 for 111 yards with a touchdown and 2 interceptions plus 3 scrambles for 14 yards and a -11 yard sack on a broken pass protection.
The running game was heavy with Sams running variations of QB leads and power plays, averaging 4.3 yards on 16 carries. 11 of those came from 1 back formations with Gronkowski leading and 5 from 2 back sets with both backs leading. Sams also carried the ball on a power play as the running back with Waters at quarterback in a 1 back formation. The majority of the carries for Hubert came on zone reads, gaining 4.8 yards per carry but only on 5 plays. K-State used 30 called running plays to gain 144 yards, a solid 4.8 yards per rush.
Conclusion
The switch to Sams brought some nice things to this offense, namely the ability to control clock and consistently run the football. Sams also showed that he can be very effective throwing the ball, especially on short and intermediate routes. His deep balls were not very good, though not having Lockett for 2/3 of the game didn't help him. He took responsibility for the 3 interceptions as he should, but overall its hard not to come away from the game feeling positive about the offense if Sams gets the majority of the snaps the rest of this season (and his career). Similar to other young quarterbacks like Beasley and Roberson in Snyder's system, Sams will have struggles, but the upside he brings is hard not to see and something this staff should use to K-State's advantage.