We've got to do a better job. We didn't coach this game very well. We need to do a better job being able to utilize both of them because they're both going to play. It's that simple, but we've got to do a better job utilizing them to their full capacity. - Bill Snyder
K-State's first Big 12 contest saw more of the same struggles that have plagued this team all year; namely a -3 turnover differential leading to inefficiency on offense (.33 points per play) combined with an inability to get Texas offense off the field (UT converted 9 of 18 third downs and ran for 4.8 YPC). As a result, the Wildcats fell to .500 on the season and 0-1 to start Big 12 play. Snyder used a split quarterback rotation through K-State's first 4 drives, but those 23 plays made just 101 yards and resulted in 4 Mark Krause punts. 10 plays for Sams resulted in 55 yards and 13 plays for Waters gained 46. Three of those drives were put into holes by penalties and by the time 4 minutes were left in the 1st half the Wildcats were behind 17-0. After that K-State turned the game over to Waters and Lockett and the passing game, and the offense scored touchdowns on 3 of the next 5 drives. However, 3 second half turnovers doomed the Wildcats despite Lockett setting the K-State single game receiving record. The most crucial turnover occurred with the Wildcats on the verge of cutting into Texas' 10 point lead with just over 2 minutes remaining. On a designed quarterback run, Waters ran into his own lineman and committed a silly fumble inside the Texas 10 yard line ending any chance for a K-State comeback win.
Once again the play (or lack of playing) from the quarterback position was in the spotlight from the K-State fanbase. Sams' 10 plays only included 1 pass play, and that was the quick play action to the McDonald down the seem that we've seen Sams run before this season. The problem wasn't that Texas read it and was able to cover McDonald, but that Texas' defensive tackle got penetration at the line of scrimmage which didn't allow Sams any time to make the read and throw. Otherwise K-State's running game with Sams was a nice mix of zone read, leads and power leads, and a counter trey power from a nice variety of formations. Also called was a speed option that was stopped by a penalty. Overall Sams played fine in his handful of snaps, although he made at least one error in zone read when he should have kept the ball. Also, there was a power read (called from a sideline check) in which either Sams or his backfield made a mistake as Sams ended up reading the wrong end of the line of scrimmage and a give to Hubert was stopped for a short gain.
Meanwhile, Waters dropped back to throw on 58% of his snaps and had a very good night passing the football. He completed 63% of his passes and averaged a very good 9.2 yards per attempt, however only one throw threatened the endzone; a great reception by Lockett a yard short in the 4th quarter. (Although Lockett did have a high throw go off his hands late in the 4th quarter) K-State used Waters in the quarterback run game, running 8 quarterback lead/draws to gain 23 yards, including his nice 17 yard run in the 3rd quarter. However, the insistence on running speed option (which appeared to be a check most of the time) was the biggest question from this game. Waters and Hubert ran it 7 times for a total 0f -2 yards and a lost fumble by Hubert on a pitch. Speed option is simply a play that Waters doesn't appear comfortable running as evidenced by him pitching too early multiple times, plus Hubert didn't appear to have the speed to get the edge against the speed of Texas even if he had executed it better.The rest of Waters' rushes came from sacks or scrambles when Texas was able to get pressure, mainly from their front 4.
Personnel/Formations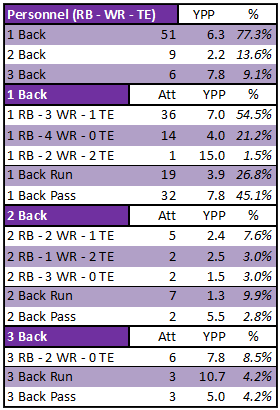 While K-State used 1 back formations a majority of the time, the Wildcats also used a new wrinkle against Texas that we haven't seen in the last 2 seasons. The Wildcats used their own version of the diamond formation (Oklahoma State runs this quite a bit) with 3 backs and the quarterback in a shotgun alignment along with 2 split receivers. Flanking Waters on either side were Gronkowski and Nemechek with Hubert in the pistol and Thompson and Lockett at split receivers. K-State often shifted into a heavy alignment, with Nemechek essentially moving to tight end while Gronkowski and Hubert flanked Waters. Hubert's two biggest runs came from this alignment on stretch/power read plays, but K-State only used it twice. The other run from this formation was a lead play with both fullbacks leading for Hubert. K-State used fewer 2 back sets than we've seen in any game the past two seasons and plays from these formations had very little success gaining only 20 yards on 9 snaps.
As for 1 back sets, 20 snaps came from tight end trips alignments and the majority of Lockett's big catches in the passing game came from this formation, including his catches of 31, 47, and 52 yards.  Note all of the sacks came from 1 back sets and these numbers figured into the 1 back passing numbers.
As for Sams, K-State used a different formation on nearly every snap he was in the game, including 4 different variations of trips. 3 snaps from from 2 back sets, 4 from 1 back/3 receivers, 1 from 1 back 4 receivers and 1 from 1 back/2 receivers/2 tight ends.
Play Calls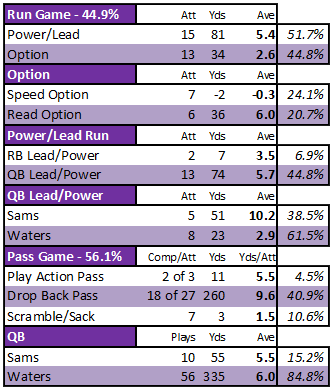 The Wildcat offense made an attempt to be balanced in the running game between power/lead and option, but the ineffectiveness of speed option really took away from the gameplan. Every other facet of the running game was decent, granted the QB run game was bolstered by Sams' 2 big runs. Also, Texas again struggled with versions of read option, but K-State only ran it 6 times. To be fair, Hubert's 2 big runs on stretch/power read made up most of those yards while read option with Sams only gained 7 yards on 4 snaps.
The passing game went away from play action, but the drop back passing game really gave Texas problems. K-State moved Lockett around to multiple spots in formations, from both the slot and the outside, and Texas didn't find a defender that could cover him one on one. Unfortunately it took until the last drive of the 1st half for K-State to really exploit these match-ups.
Conclusion
Snyder and his staff must find a way to increase the efficiency of this offense. If they are going to give Waters 80% (or more) of the snaps, then the turnover problems must be fixed, while finding ways to get Sams involved in other ways. While there was an appearance of diversifying the package for Sams, the lack of including any drop back passes or developing play action takes tremendous pressure off of the opposing defense. Sams' ability to make plays with his speed and athleticism was still shown against Texas, but it has to be more than a handful of snaps.  I was impressed with many of the things that K-State did in the passing game, the ability to find ways to get Lockett open, and the ability of Waters to get him the ball. This offense has enough to win several more games (at least to bowl eligibility), but the issues at quarterback and offensive line must be corrected, along with calling plays that give the personnel on the field the best opportunity for success.
Unfortunately for K-State fans, we have to wait another week to see if this team can and will improve, and that contest is on the road against one of the best teams in this year's Big 12.
Discuss on the message board: http://goemaw.com/forum/index.php?topic=29222.0