A memorable 2012 K-State football season is a memory and the entire 2013 season is ahead. Not one Klein run, or Harper catch, or Brown tackle, or Williams sack from last season will make any difference for this year's team. However, it can be helpful to look back at the Klein/Harper era and learn from offensive tendencies for play calls and formations to anticipate what we might see from this year's Cats.
When looking back we must remember that last year's offense was one of K-State's best ever; arguably the 3rd best in the Snyder era, only behind 1998 and 2002. K-State averaged 6.21 yards per play (4th best under Snyder) and .60 points per play (3rd best under Snyder) while turning the ball over only 12 times. The numbers for this breakdown don't include every game from the 2012 season, but it is gleaned from charts featuring formations, play calls, and yards gain from 8 games. The picture it gives of last year's offensive footprint is more than adequate.
Formations/Personnel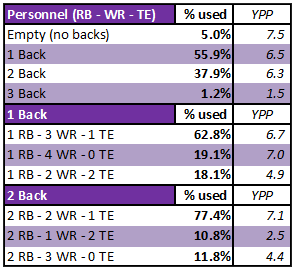 One of the strengths of Snyder's offense has always been the variety of personnel and formations that K-State uses, putting a lot of pressure on opposing defenses to not only defend offensive schemes, but get aligned correctly on each snap. As the chart shows, the variety was very broad last season, and there were even more variations for each personnel grouping. Still, the Cats had two primary personnel groups; 1 back sets with 3 receivers and 1 tight end, and 2 back sets with 2 receivers and 1 tight end. Nearly 2/3 of the offense snaps had one of these groups on the field. Every formation/personnel grouping was successful, and most featured gains of over 6 yards per play. Keep in mind when looking at the yardage gained that 3 back sets and 2 back sets with 2 tight ends were most often used in short yardage situations.
1 back set with 3 wide receivers and 1 tight end. This is a balanced formation with 2 wide receivers at the top and the tight end and 3rd receiver to the bottom of the screen. Used on 8% of the snaps.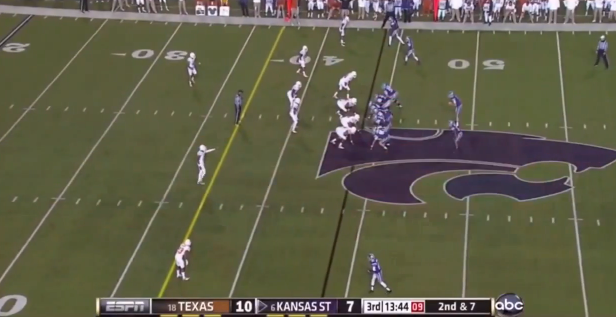 1 back set with 3 receivers and 1 tight end. This features a trips formation to the top with the tight end and 2 receivers and 1 receiver to the bottom of the screen. Used on 20% of snaps.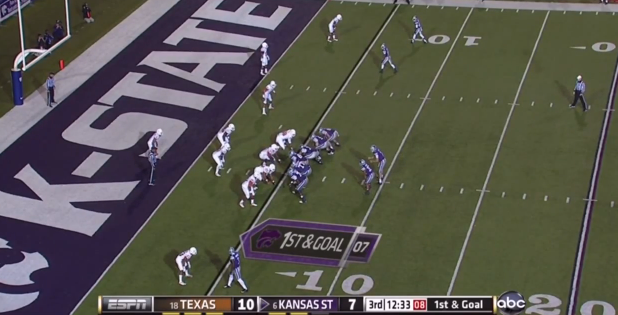 2 back set with 2 receivers and 1 tight end. This set features a receiver and tight end to the top and a single receiver to the bottom of the screen. K-State also used twin receivers with the tight end opposite or unbalanced twins with the tight end and receivers to the same side. The formation below (or slight variations such as shotgun/pistol) was used on 22% of snaps.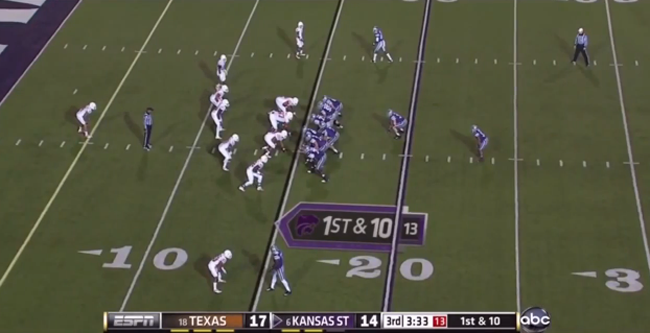 Schemes/Play Calls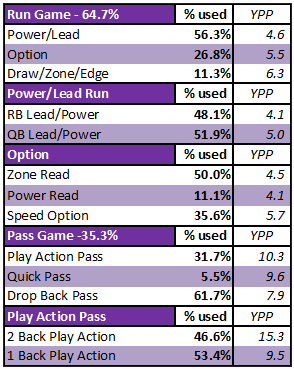 The Cats were primarily a running team with an effective passing game last season and this chart gives a pretty comprehensive view of the general running schemes and passing schemes used. Zone lead/power from 2 back sets was K-State's primary running game, but varieties of option football were also featured. The zone lead/power game was very balanced, with nearly a 50/50 split between quarterback and running back carries. Both were effective, but the QB running game at 5 yards per carry stands out. With the option, zone read was featured and speed option was most successful. You can go back and look at last year's FANframes to get more detailed breakdowns of these option schemes.
Through the air, K-State's drop back passing game was used frequently, but it is no surprise that play action featured the biggest plays on offense. Play action passes gained over 10 yards per attempt, and out of 2 back sets that number was an impressive 15 yards per attempt. The effectiveness of K-State's running game forced opponents to load 8 or 9 in the box, opening up huge holes in the secondary for throws down the field. While K-State's passing game was only used on 1/3 of its snaps, the effectiveness led to nearly 9 yards per attempt on the season to rank #5 nationally. K-State ranked in the top 5 in a few other offensive categories; points per possession, turnovers lost, and penalty yards per game.
The question becomes what will K-State's offense look like in the post Klein/Harper era? Clearly some things will change because K-State no longer has a quarterback with the body of a tight end or a huge outside receiving threat. However, the thought that K-State will become a pass happy offense if Waters maintains the #1 spot at quarterback seems premature, though its probably safe to anticipate the passing game will be used more than 1/3 of the time, especially if the rumors of Waters' accuracy and throwing abilities prove to be true.
The running game has always been a big part of Snyder's system. Even if we go back to the successful seasons (93-96) before the QB run game (and Michael Bishop) became integral part of Snyder's offense, the running game still accounted for 57% of the play calls. That was averaging only 3.4 yards per carry during those 4 seasons and when the QB run game schemes were a fraction of what we see in Snyder's system today. With the size of Waters (and Sams) its also likely the use of the QB in the zone lead/power running game will decrease. Neither seems equipped to take the abuse that Klein took, so more zone read schemes will likely be used than last year.
Either way, with the inexperience on defense, the offense will need to be the strength of this team. With a strong offensive line, an experienced and successful running back, and some nice receivers returning its going to be up to the success of whoever becomes quarterback to lead this team. It will be interesting to watch the evolution of this offense as the season goes along, and especially the changes Snyder brings to his offense.
Discuss this on the message board: http://goemaw.com/forum/index.php?topic=28710.0