What do you want me to change? We played somewhere in the neighborhood of probably 30 players on defense. They are what we got. - WVU Coach Dana Holgorsen
It was clear Holgorsen and his defensive staff took a calculated risk with their game plan last Saturday night and it really sought to answer one major question: could Colin Klein and K-State's receivers beat West Virginia with their passing game? The answer was a resounding yes and afterward Holgorsen was left searching for answers to questions about the problems with his defense. Its one thing to get dissected by a traditional pass happy offense like Texas Tech, especially in Lubbock, but its quite another to throw most of your energy (and defensive bodies) at K-State's vaunted running game and then proceed to get stomped in your own stadium by what many thought was an average passer with an unconventional throwing motion. In reality the only thing that stopped Klein and K-State's passing game were a couple of slightly overthrown balls by Klein; on both of his incompletions receivers Tyler Lockett and Chris Harper each had defenders beat badly. Otherwise Klein would've had a perfect night in Morgontown with completions, because never did a WVU defender have a very good opportunity to defend a football, and when they were in position Klein combined very good throws with great catches by his receivers. The WVU strategy on defense dedicated at least one of their safeties to the box on nearly every play, especially in running situations (which is most of the time for K-State), and was left with a variation of cover 3 zone or man coverage with no safety help. Over and over K-State defeated these coverages with smash route concepts (outside receiver runs a hitch/curl, inside receiver runs a deep corner/flag route) when using two receivers or simply double moves by single receivers; stemming from a skinny post route with a quick inside head and shoulder fake then back outside to the outside third of the field.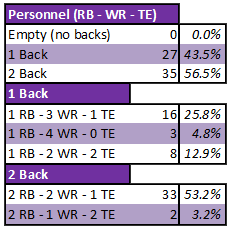 Against the Mountaineers, K-State stayed with one group of personnel much of the game, featuring traditional 2 RB, 2 WR, 1 TE formations (I formation with twins or split receivers, shotgun with pistol and fullback and two receivers) on over half the snaps. The other major personnel group featured 1 RB, 3 WR, and 1 TE, usually with the TE and 2 WR (TE trips) to one side of the formation. For the game, nearly 80% of the snaps came from those 2 sets of personnel which is less diverse than K-State's offense usually uses. The  Wildcats gained 273 yards in 1 back formations including a ridiculous 71 yards on 3 snaps in 4 WR doubles formations. The 1 RB, 3 WR, 1 TE sets gained 168 yards on 16 snaps. 2 back sets gained 206 yards on 35 snaps.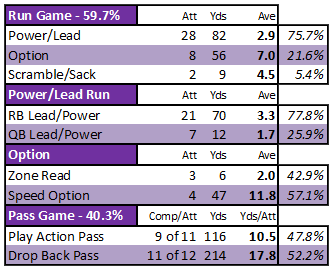 K-State used a consistent offensive game plan against WVU by featuring the zone lead/power running game (with both RBs and Qbs) on 48% of the snaps. K-State's patience with this running attack was impressive as WVU's defense continually stacked 8 or even 9 defenders in the box to take this away; as a result K-State only gained 2.9 yards per play on those 28 snaps. K-State stuck with its plan though; in the first half using lead zone/power concepts on 4 of 6 plays on drive #1, 5 of 11 plays on drive #2, 2 of 9 plays on drive #3, 3 of 7 plays on drive #4, and 3 of 8 plays on drive #5. In addition, every one of those drives featured at least one play action pass off of the same run action. K-State also used a slightly different version of zone lead/power by offsetting their fullback to one side, and bringing him back to the opposite side of the formation for the lead action for a slight counter-lead action. These plays were the most successful from this scheme, gaining 37 yards on 7 snaps for 5.3 YPC.
Even though the yardage gained on these plays wasn't substantial, it did force WVU to stay with their game plan, keeping 8 players in the box, which opened up gaping holes in the WVU secondary and often left their defensive backs with no help and only the ability to rely on their (poor) man coverage technique. As a result, Klein finished the game with a ridiculous 15.4 yards per attempt on only 21 throws and as stated above the only two throws he missed were to wide open receivers. This game was one of the few games I can ever remember where a K-State opponent literally never stopped a K-State passing play while the game mattered; it was only in the 4th quarter and behind by 45 points that WVU finally got a sack on Klein and then broke up a late throw to the endzone from Daniel Sams.
The most successful running play for K-State was speed option, and the Cats gained 1/3 of their rushing yardage on only 4 plays. K-State's speed option plays gained 7, 17, 8, and 15 yards which were 4 of K-State's best 7 running for the game. K-State's longest run of 18 yards was a scramble from Klein.
As the chart shows, K-State's run action passing game was very efficient, gaining an impressive 10.5 yards per completion, much of the time with only 2 WRs running routes, but against a single corner in a deep 1/3 (cover 3) or man coverage. However, the drop back passing game netted an extremely impressive 17.8 yards per attempt and consistently torched WVU's defense. Of K-State's 7 pass plays that covered at least 20 yards, 6 came from the drop back passing game. And 5 of those 7 came from formations with 2 receivers (twins or TE trips) to the same side. In these sets the outside receiver generally ran some sort of hitch or curl route, while the inside receiver ran a deep route, usually a corner/flag to the outside 3rd of the field. This often left our WRs matched up on WVU's safeties. Many times K-State also used a simple inside-out move against man coverage, leaving receivers open on the outside 1/3 of the field as well. At the end of the game K-State finished with 1 pass play longer than 40, 3 of at least 30, 7 of at least 20, and 10 of 18 or better gaining 260 total yards on those 10 completions.
In the end this game plan did what it was supposed to do; exploited an extremely undisciplined defense, in contrast to the very discipline Iowa State defense K-State faced last week. WVU has a lot of athletes and they run to the ball very well, which is indicated by their ability to load the box and limit K-State's zone lead/power running game. However, the big plays off of speed option, success with counter lead action, and exploiting WVU's sloppy secondary coverage shows that WVU's philosophy only goes so far, and against K-State's disciplined offense it was simply destroyed.