by 8manpick
Criteria:
I only considered music that was released in the 90's, and it was heavily weighted towards bands with good CDs (<--90's music storage/playback device). Even today I prefer to listen to whole albums rather than songs because that's just what I like. As such, bands whose CDs I don't listen to, I didn't really consider even if I think they have some good songs (Pearl Jam, Smashing Pumpkins, Live, etc.) I picked the fifteen bands I liked best, listed their CDs, then ranked the CDs in order of my preference. Then I used math to come up with a score to rank all the bands based on how much I liked their CDs. Then I said fuck math, and ranked those bands however the fuck I felt like it.
Honorable Mention:
–The Lemonheads: Evan Dando is great. If you have only heard their cover of "Mrs. Robinson", go listen to the rest of It's a Shame About Ray.
–Rage Against the Machine: So much anger, so much guitar.
–Alice in Chains: Jar of Flies is a great EP. Layne and Jerry's haunting harmonies were something special. Second best MTV Unplugged performance.
–Bush: Sixteen Stone is so good. Unfortunately the rest of their stuff is incredibly meh.
–Nirvana
–Incubus: I really like S.C.I.E.N.C.E and Make Yourself. If the list was 1995-2004, they would definitely make it.
#10. Elliott Smith
Such sad but beautiful music. May he rest in peace. My favorite CD of his is his self-titled, and my favorite song is Say Yes.
#9. John Frusciante
Would be in my top three favorites all-time but the only good music he put out in the 90's was the double CD Niandra Lades / Usually Just a T-Shirt. His music is strange, complex and raw. It's weird but I love it.
#8. Foo Fighters
The Colour and the Shape is great. There is some great stuff on the self-titled as well.
#7. Green Day
Hate all you want on current Green Day, but you all loved 90's Green Day unless you were an old balls loser or a too cool for fun musicer. Either way, if you haven't listened to 1039 / Smoothed out Slappy Hours, it is an interesting change of pace from their radio music.
#6. The Offspring
Four CDs in the 90's, I like all of them. Americana was the first CD I bought for myself. Try Staring at the Sun.
#5. Weezer
Their two CDs in the 90's are completely different but Weezer (Blue Album) and Pinkerton are both classics.
#4. Sublime
Some people don't like them. I don't know why. Their songs can be fun and silly or dark and emotional. It's not all "Date Rape" and "Wrong Way" but those are pretty good songs anyway. Wish I'd gotten a chance to see Bradley live. I really like S.T.P. Pool Shark is great too.
#3. Radiohead
Probably the "best" band on this list. Three CDs in the 90s. OK Computer is incredible and The Bends and Pablo Honey are both excellent. All wildly different.
http://www.youtube.com/watch?v=mDcRO2jU9zU
#2. Third Eye Blind
Haters gon' hate, but front to back, their self-titled album is incredibly good, and Blue is great too. God of Wine and Wounded are my favorite songs by them.
**They will be in KC on the night before Thanksgiving, buy a ticket and come binge with gE's #1 binger!**
#1. Red Hot Chili Peppers
There was never any doubt. This is my favorite live recording I've ever seen of any song by anyone.
Bonus maths (8manalysis)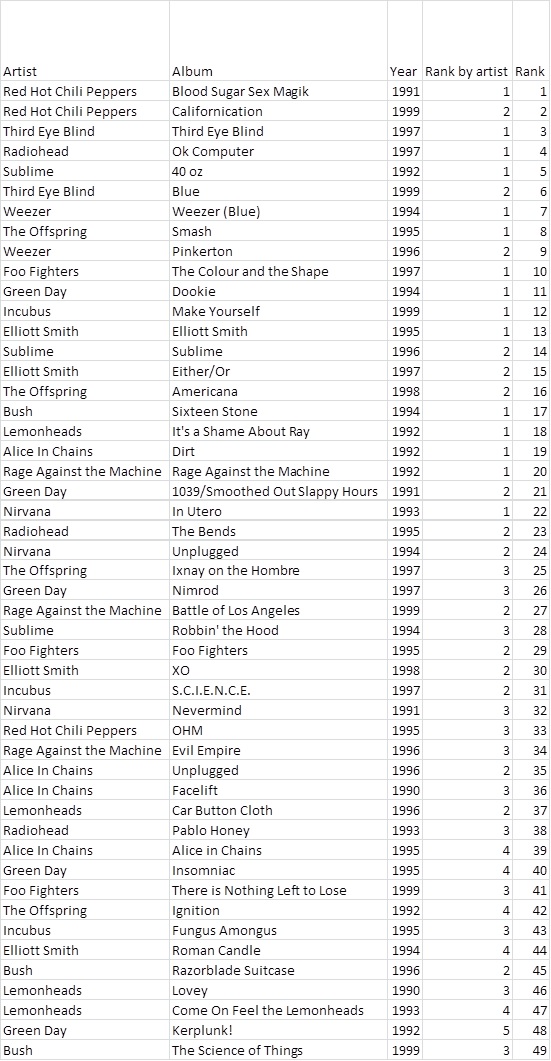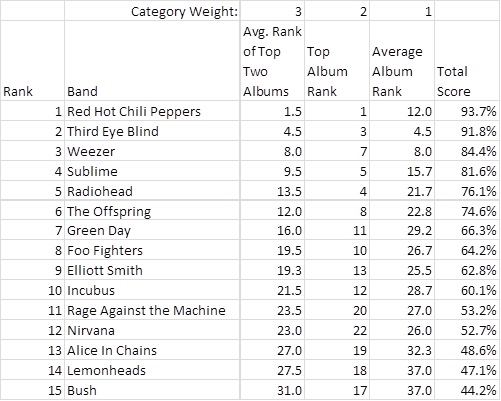 Discuss on the board: http://goemaw.com/forum/index.php?topic=29449.0