The bottom line of it is Jake is a good, young quarterback, and Daniel is a good quarterback. You've got two guys that deserve and need to be on the field and we need to continue to find and cultivate ways to utilize both of them. I think it's to our advantage to be able to do so as long as we do it the right way. That's not the easiest task, but both of them are good enough to be on the field.
– Bill Snyder
So far the 2013 season has left K-State fans thinking they are seeing something that has happened before. A JUCO quarterback known for his arm comes in and displaces the young, dynamic run-first quarterback that has already been in the Snyder system. Granted, some of Waters' early numbers are much better (70+% completions/9+ YPA compared to <50%/<6 YPA for Dunn), but the subpar TD to INT ratio (1:2) stands out. Plus the numbers show that good things happen more (like scoring) when Sams comes on the field (more on that later). Snyder insists that this is a different set of quarterbacks and that the plan and desire has always been to use both, but that won't dispel a good fan generated controversy. The fact that Sams came in with just under 11 minutes left and led a fairly easy 6 play drive for K-State's final score after a very sub par 3rd quarter didn't do Snyder's desire for no controversy any favors.
Personnel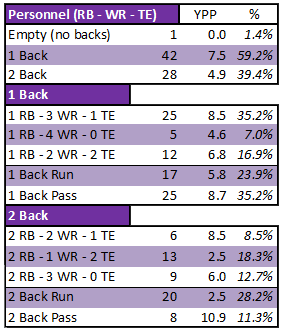 In the K-State's game against Louisiana the Wildcats used a lot of one back sets and specifically attacked with 3 WRs to one side of the Cajun defense. K-State specifically used 13 trips formations (either with 1 TE and 2 WRs or 3 WRS) to do so, but also used Hubert out of the backfield to 2 WR sides of formations. Mixed in was quite a bit of power running game.
1 back formations proved to be effective the entire game, averaging 7.5 yards per play and no 1 back set averaged less than 4.6 yards per play. The running game was most effective from 1 back sets at 5.8 yards per rush and not surprisingly all of Sams' runs came from 1 back formations.
Not surprisingly, the the most dramatic difference came in the 2 back running game compared to 2 back passing game. Granted, a heavy used of 2 RB/2 TE formations (used 13 times) contributed because that usually means short yardage plays, but 2.5 yards per carry on 20 runs is still very poor output. Also, Robert Rose ran for 18 yards out of 2 back sets on K-State's last 4 plays while running out the clock.
Play Calls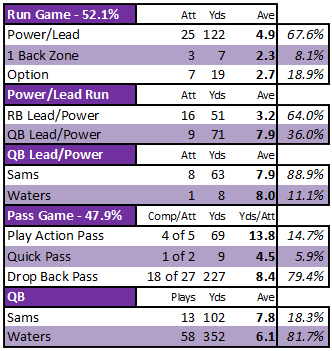 K-State did get back to a much more balanced approach between run and pass, and the running game was much more successful than last week's poor performance. However, I don't think anyone would claim that Louisiana's defense is on par with NDSU's, and neither is on par with the best defense's K-State will see in the Big 12.
K-State relied heavily on the power/lead running game again and had much more success, but much of that is because of the success Sams had running the football. 2 back power/lead only averaged 3.2 yards per carry. The Cats used a bit more option; Hubert had a nice run to begin the game on zone read and scored on a speed option pitch, but other than that option football wasn't very successful.
In the passing game play action was most effective, but Waters did a nice job in the drop back passing game as well. However, he seemed to get out of rhythm to start the 2nd half and the offense was largely ineffective until Sams 4th quarter scoring drive.
QB Production

That leads us to this week's final breakdown; quarterback production. A play per play chart for the season favors Sams (7.9 yards per play on 15 plays to 6.1 yards per play on 109), but this chart breaks down even more simply to drives with Waters only and drives where Sams was mixed in (some of those are only 1 to 2 plays). Still, the production value thus far this season when Sams enters is clear; K-State has scored 3 touchdowns on 7 drives that involve Sams (with no turnovers and one drive to run out the clock) while 16 drives with Waters only at QB have led to 3 touchdowns, 2 field goals, and 4 turnovers. PPD in the chart is points per drive and the production is more than double when Sams is involved. Meanwhile PPP (points per play) on drives when Sams is used is .52 compared to .39 without. Rushing in drives with or without Sams are nearly identical, but just the 13 snaps this season that Sams was on the field for rushes are nearly twice as effective as without him.
Conclusion
Many will argue that the sample size is simply too small, and there is probably some truth to that. However, when one of the games resulted in one of Snyder's most embarrassing losses as a head coach, that doesn't matter much. The production value is evident and if Snyder insists on using a 2 quarterback system as his quotes suggest, then its clear that he and his staff must find a way to get Sams involved more than 1 out of every 5 plays (vs Louisiana) and definitely more than 1 out of nearly every 10 for both games combined.
Discuss this on the message board: http://goemaw.com/forum/index.php?topic=29010.0