Just 12 days ago it seemed K-State had played itself out of the NCAA tournament. A heartbreaking loss to Colorado left Wildcat fans facing a stretch of 4 games that were all must wins and it looked like it would take a mighty effort just to go 2-2. Not only did the Cats answer, starting with the throttling of KU and finishing with last night's grinding win in Lincoln, they've also played themselves back into consideration for a bye in the first round of the Big 12 tournament. That leads us to Saturday's game, where the Big 12′s 4th place team comes into the Octagon of Doom to face the Wildcats, a place K-State has only lost once this season.
Before looking at the match-up, I want to revisit what these charts are meant to show for each match-up. Its not hard to figure out that I'm a fan of tempo-based stats like those advocated by kenpom.com and statsheet.com. However, these can become just as meaningless as old fashioned box score numbers if you don't make an attempt to find trends that show how your team is performing in areas of efficiency and the four factors. The numbers definitely have some value in and of themselves, ie. you can look at K-State's strength in offensive rebounding just by comparing them with the other teams in the league. Chart 1 shows both offensive and defensive efficiency as points per possession, the averages in Big 12 play for all Four Factors both offensively and defensively, and the average pace in for each team in Big 12 play. However, I wanted to go beyond just that, and it seems to me there are really 3 other significant ways you can look at these numbers. 1st, you can look at how your offense performs compared to how your defense performs on a game by game basis. Sure, the Cats may shoot well beyond their average in eFG%, but it doesn't matter if they also play poor defense and allow their opponent to have a great shooting game; the game in Ames being a great example. Charts 2 and 4 both show this for each team by taking the offensive numbers and subtracting the defensive numbers for efficiency and for each of the four factors in the game.  That gives you the net advantage (or disadvantage) gained in efficiency and each of the four factors for that individual match-up, which in turn should give you an idea of which areas a team is outplaying their opponents on a given night. Then when you look at a series of games, you should also then be able to see some trends of improvement or solid play, or taking advantage of match-ups to exploit weaknesses of an opponent.  Charts 3 and 5 show the same games for each team, but demonstrate a 2nd way of looking at the numbers; how each team does in each category compared to their current average in Big 12 games.  So those charts show both offensive and defensive numbers (instead of just one set of data like charts 2 and 4) with the offensive numbers listed first and the defensive numbers listed second. These charts will show many of the same trends, but in a little different way because they demonstrate  how you perform "against yourself", or how you perform compared to how you'd expect to perform based on your averages for each category.  The 3rd way I haven't taken the time to include, but would also show a different set of data comparisons, that would be how you perform in a game compared to your opponent's Big 12 averages. It would also be informative, but that's another extensive layer of data I simply didn't have time to include; I still think there is plenty of worthwhile information using the other two methods of evaluation the statistics.  The color coding for the charts: dark green = exceeding 9% or better than the opponent or the team's average, light green = performing between 4 and 8% better than the opponent or the team's average, grey = performing within 3% positive or negative compared to the opponent or team's average, orange = performing between 4 and 8% worse than the opponent or team's average, and red = exceeding 9% or worse of the opponent or team's average.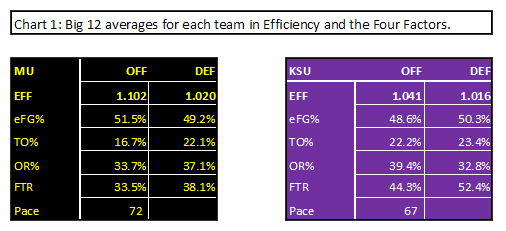 The first chart gives you the offensive and defensive efficiency numbers (points per possession) and average in Big 12 play of each of the four factors.

Example: Chart 2 for K-State vs NU shows that the Cats were 6.2% better than NU in Efficiency, .6% better in eFG%, 10.9% better in TO%, 8% worse in OR%, and 13% better in FT rate.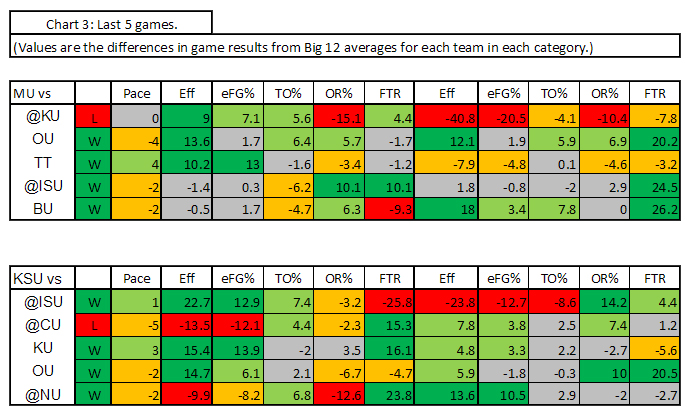 Example: Chart 3 for K-State vs Nebraska shows the pace was 2 possessions slower than our average of 67 (from Chart 1), our Off Efficienty was 9.9% worse than our average, our eFG% was 8.2% worse than our average, our TO% was 6.8% better than our average, and so on…
Charts 2 and 3 look at the last 5 games for each team and show both teams are playing their best basketball of the season. You can see in Chart 3 that both teams have had issues playing to up to their averages in some areas, but Chart 2 shows both are still managing to outplay their opponents in most of those games.  K-State's defense the last 4 games has been excellent compared to our averages in Big 12 games and you would expect those trends to continue, especially at home. MU has been solid offensively, but in their last two games they've played average offense, especially when it comes to one of their biggest strengths, shooting the basketball. Still, average shooting for MU is very good, we will likely have to keep them well below the 51.5% eFG% they've shot in Big 12 play. Plus, K-State needs to take advantage of their biggest weakness, offensive rebounding and keeping opponents off the offensive glass.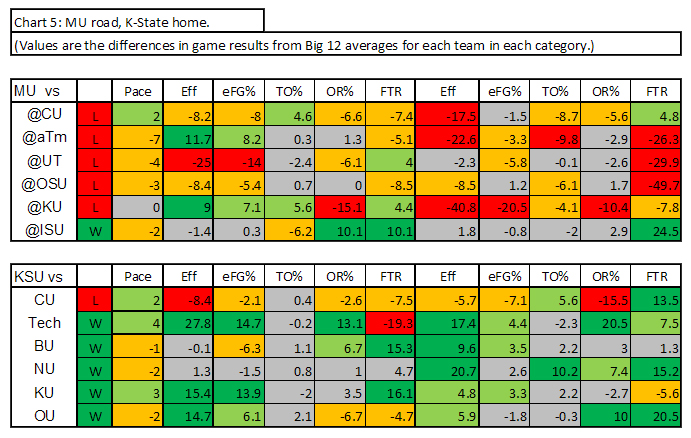 The final two Charts show how MU has performed on the road compared to how K-State has performed at home. One of MU's biggest weaknesses on the road has been sending opponents to the FT line as opponents have consistently gotten to the line much more than they have, the only exception being at ISU.  Meanwhile K-State's defense has been excellent at home since the CU game in nearly every category. The trends show this is a game K-State should win. The biggest threats would be a poor shooting night, which we know K-State is capable of, or not handling MU's pressure and turning the ball over. The hope is that the Cats have shown to at least perform to average shooting the ball at home, while shooting well above average in 3 of the last 5 home games, plus they have handled the ball very well at home while being dominant on the offensive glass. I just don't see K-State and Pullen performing below expectations given the work they've done to get to this point. This game should be a solid win for the Cats and get them to a tie for 4th going into another Big Monday match-up.
Cats 82 – Tigers 73