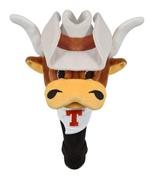 Winning the Battle in the Trenches.
All season K-State fans have expected the offensive line to be a strength of this team, and mostly we've been left with mixed results.  Small, quick defensive lines have given our front fits.  Granted, the K-State passing game has been limited allowing opponents to load up the box, but too often we've still seen poor execution and missed assignments.  Saturday saw that change greatly.  Even though the insertion of Klein as a run threat at QB helped K-State's offense in this game, solid execution by the offensive line was more of a factor.
When looking at K-State's offense in this game, you could see a clear plan in how we attacked the UT defense; power football.  On half of the plays K-State ran in our first 11 drives (leading to 39 points), the Cats went right at Texas with Thomas and Klein; pulling an offensive lineman, leading with a FB, or both. Isos, leads, and power offensive football.  Another 15-20% were inside zone runs, mainly gives to Thomas off zone read (including Thomas' big run for our first score).  Then a nice mix of speed option and a few designed QB draws. Only when K-State tried to throw too much (yes too much) leading to incompletions or sacks, or because of penalties on the offensive line (including a questionable holding call) did Texas stop Klein and Thomas.  Of course this has been our plan in other games this year, but in this one the offensive line really stepped up their execution.
The Cats were also effective using a variety of personnel groups, but the most successful were trips (3 WR with another WR or TE backside) formations, accounting for half the formations through the first 3 quarters.  Around 35% were from 2 back sets, mainly with 2 WRs and a TE.  The remaining formations were 1 back sets with mainly 3 WRs. 
The point of this to say, while the plan was fairly simple to accommodate Klein, Snyder still did a nice job utilizing a variety of formations and motions to give UT plenty of looks from our run offense.  This allowed for plenty of success against a talented defense that had performed well all season.  Granted, K-State was also able to take advantage of 5 Gilbert interceptions, but the sound plan, as well as solid defense and special teams, allowed K-State to turn this game into a blowout.
In continuing the theme of solid line play, lost in the 5 interceptions was the play of the K-State defensive line.  In probably the unit's best performance of the season, several defensive linemen were able to make plays, namely Guidry, Harold, Felder, and Kibble.  On UT's first drive, Guidry made two huge plays against inside zone to force fourth down and a failed fake FG.  Guidry tipped the pass leading to Harrison's INT on drive two.  Both Guidry and Felder had big stops against inside zone on UT's fourth drive leading to a 3 and out.  Pressure from Kibble contributed to UT's 2nd INT.  Several pressures from Harold on UT's final drive before half extended the drive, eventually leading to a forced throw and Zimmerman's INT.  We did get solid play from the LBs and DBs in this game, but this was really the first game where our defensive line made multiple significant plays and another big reason we were able to blow out Texas in this game. 
Finally, I have to give Cosh some credit for mixing things up against the Texas offense.  We saw plenty of the traditional 4-2-5 front with 2 high safeties, but we also sent blitzes with safeties or LBs often.  Plus, we utilized a 3 man front, 2 LBs, and 6 DBs.  With that we'd often send one or two of the DBs on blitzes with man coverage or mixed zone coverages.  IMHO, these different looks did a lot to confuse Gilbert and contributed to his 5 INT night.