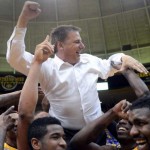 I vividly remember Larry Eustachy's final trip to Manhattan. His Iowa State team was sitting at 5-10 in the Big 12 while Wooly's Cats were 3-12. Late in the game after K-State already had the game at hand, a foul was called on a young Marques Hayden. Wooly began to rip into the youngster from afar, I'm sure hoping to help his player avoid careless fouls in the future and already preparing for what would hopefully be a breakthrough season the following year. Eustachy heard Wooly and yelled down from the other end of the scorers' table, "Jim, leave him alone. These refs have been terrible all night, the kid didn't foul anyone." Wooly smiled, shook his head, and calmed down. The Cats went on to win 74 to 63. In 5 days K-State lost in what will forever be known as the "Pasco Fiasco". Less than 2 months later a paper in Des Moines published pictures of Eustachy partying with Missouri students after a loss in Columbia and reported that he also attended several parties in Manhattan after the loss to K-State. Another week later Eustachy resigned.
A lot has changed since that March of 9 years ago, both for K-State basketball and for Larry Eustachy. Eustachy has already met Frank Martin once, a 74-55 win for K-State in Sprint Center in December of 2008 featuring a dominant performance by Louis Colon. Eustachy has continued to slowly build Southern Miss basketball, now getting them to their first NCAA tournament game since 1991, while Frank has continued his success at K-State with his 3rd straight NCAA trip. Southern Miss is a fairly slow paced team at 64.9 possessions per game and their strength is on offense, but they manage to be pretty efficient without being a very good shooting team. Defensively they are pretty average, with their main strength being not allowing offensive boards. Southern Miss played in a lot of close games on the season and managed to win most of them. 5 games went to OT or double OT and they were 3-2 in those games while 15 games had a margin of 5 points or less, where Southern miss finished 11-4.
Offense
Southern Miss wins games by playing a junkyard style of basketball, but one that places a high value on protecting possessions, finishing with a Top 50 efficiency of nearly 1.1 points per possession. Their strength is not turning the ball over; they rank in the Top 15 nationally with a TO% of only 16.3%. They are also a very good offensive rebounding team with an OR% of 35.9%, and they get to the foul line often with a FT rate of 40.3%. When you look at how they performed against the better teams on their schedule (Top 150 kenpom, 22 games) they maintain averages within 1% of all of those key numbers. Where Southern Miss really struggles is shooting the ball; finishing the year with a eFG% of only 46.3%. Even worse, they only hit 43.3% of their 2 PT shots on the year, ranking #313 in the nation. They shoot a respectable 35.6% from 3, but less than 1/3 of their FGAs are from beyond the arc. They also have assists on only 45.4% of their made shots, again one of the worst marks in basketball. In their last 10 games Southern Miss finished 5-5 and their offense really struggled with an average eFG% of only 45%. They were outshot by their opponents in 9 of those 10 games.
Only 2 players on Southern Miss' roster are listed as forwards, and both are 6-6. They have 2 players listed at 6-7 and 6-10, but both are listed as guards. Because of their poor shooting and their lack of reliance on 3PT shooting, a large amount of Southern Miss' point production comes from made FTs; 24.3% of their total points scored for one of the Top 10 marks nationally. The Golden Eagles have 5 players with at least 50 3PT attempts, and all 5 shoot 34% or better, so defenses usually have to respect at least 4 of the 5 players on the floor out to the arc even though they don't shoot them a lot. Eustachy's system has had a similar focus throughout the years, and this team is definitely guard driven but with an unusual combination of a lack of turnovers, but also a lack of assists. Basically look for a style that attacks a lot of the dribble, forces fouls, and allows for athletes to go get offensive rebounds on their many misses.
Defense
The Golden Eagle's give up nearly .99 points per possession on the year, and they are strongest at rebounding and forcing turnovers. They hold opponents to an OR% of only 28.6% and force turnovers at a clip of 21.4%. Against the Top 150 kenpom teams on their schedule they again maintained thost numbers. However, teams shoot 50.4% eFG% against them and get to the FT line at a rate of 39.6%. Against Top 50 teams the eFG% given up goes up to 52.7% and the FT rate to 40.9%. In their last 10 games teams shot 55.7% against them. They finished with the worst eFG% in CUSA and teams shot 52% against them on 2PT shots. This is a defense that doesn't allow alot of 2nd chances, but some of that is due to the success teams have shooting against them, though rebounding has always been a major focus for Eustachy. However, this is a pretty small team with 3 guards that go 5-11, 6-0, and 6-2 all averaging over 75% of the minutes played, and all over 85% of the minutes played the last 10 games. Then a group of 3 slashers and a couple undersized post players ranging between 6-5 and 6-10 rotate in at the other spots.
Guards (starters in bold)
These three smaller guards are definitely key pieces to Eustachy's team and their scoring is pretty evenly distributed. All three have a shot% of about 20% when in the game, so none are real volume shooters.
#23  6-0 #185 PG Angelo Johnson - Johnson was 2nd on the team in minutes through the season (84% minutes played) and 2nd in assist rate (17.7%). He scored nearly 10 points per game, but with an offensive rating of 96.0 and eFG% of only 41.9% is not a real efficient scorer. Johnson shot 34.3% from 3 on 93 attempt and only shot 37.7% on 2PT shots on 215 attempts (2nd on the team).
#0 6-2 #190 G LaShay Page – Page was Southern Miss' 2nd leading scorer at 11.5 PPG and played the most minutes (87%). He was also the biggest 3PT thread; his 203 attempts were more than twice any other player and he hit 35.5%. He had a respectable offensive rating of 110 and eFG% of 49.7. Of the 3 smaller guards Page was by far the best on 2PT attempts, hitting 43.5%, but on only 115 attempts.
#5 5-11 #170 PG Neil Watson -Watson was 3rd in minutes at 74%, but was the leading scorer with 12.2 PPG. He also finished with an assist rate of 30.8%, best on the team. Watson had a respectable offensive rating of 111, but only had an eFG% of 42.1%. His was a solid 37.4% from beyond the arc on 99 attempts, but finished only 35% on 197 2PT attempts. Watson had a very good FT rate of 61% plus hit 84% from the FT line and was 2nd in steal% at 2.4%.
The remaining 3 players are all listed as guards, but Bolden and McGill are very long and play more like swing forwards or even at times power forwards, but basically in a 4 out offense.
#12 6-5 #205 G Rashard McGill - McGill was Southern Miss most inefficient offensive player, with an offensive rating of only 89, and not a big scoring threat. He was 3rd in offensive rebounding at 10.6%, but only had 1.4 ORB per game. He started the last 3 games, but only averaged 34% minutes on the season. He missed 3 games in February, but has played 53% minutes the last 5 games.
#31 6-10 #200 G Maurice Bolden- Bolden was 4th in scoring at 9.9 PPG and played 61% minutes on the season. Bolden was one of the better defensive rebounders at 17.8% and 3.4 per game and led the team with a block% of 4.8%. He was 2nd with a shot% of 24.1% when he was in the game, but only shot 45.7% and had an offensive rating of 103. Bolden was a 3PT threat at 37.5%, but only had 64 attempts.
#2 6-7  #215 G Darnell Dodson – Dodson was sort of a wildcard player. He only played 31.7% minutes on the year (and 39% the last 10 games), but was the 3rd leading scorer at 11.1 PPG. He had a solid offensive rating of 116 and an eFG% of 51.1% while hitting 37.9% from 3 on 58 attempts. When he was in the game, he had a shot% of 31%, the highest for Southern Miss and as close as they have to a volume shooter. He led in defensive rebounding % at 21.8% while averaging 3.13 per game.
Posts
These are the only players with significant minutes that are listed as forwards. Both have started during the season, but Mill has started 9 of the last 10 games.
#24 6-6 #230 Jonathan Mills- Mills is Southern Miss' best rebounder, finishing with an offensive rebounding % of 13.6% (2.8 per game) and a defensive rebounding % of 18.8% (3.4 per game). He also averaged 9.7 points per game with an offensive rating of 107. He had an eFG% of 50.5% and did not attempt a 3PT shot on the season. Mills led Southern miss with a FT rate of 69% and hit 66% from the FT line. He played slightly more than Pelham at the post spot with 56.8% minutes.
#15 6-6 #225 Torye Pelham – Pelham was the most efficient scorer with an offensive rating of 125 and eFG% of 65.6%. He split with Mills at 45.6% minutes and finished as the leading offensive rebounder at 16.6% and 2.9 per game. He was decent at drawing fouls with a FT rate of 42.2%, led with a steal % of 3.5%, and was 2nd in block % at 4.6%.
Outlook
In looking at this game Southern Miss provides an interesting match-up in that there really isn't one individual player you have to stop. Johnson, Mills, Bolden, Dodson, Page, and Watson all average between 9.5 and 12.2 PPG and Johnson (5 times), Page (5 times), Dodson (6 times), Mills (6 times), and Watson (8 times) have all taken turns leading the Golden Eagles in scoring during the season. Down the stretch the key scorers have been Watson and Mills (each led in scoring 4 times in the final 10 games). Neither team has been great shooting the ball this season, but Southern Miss has been nearly 3% worse shooting on the year and more importantly has been 5% worse on eFG% defense. Unless one team has a better than expected shooting day, then it could come down to TO%. Southern Miss' ability to protect the ball versus our ability to turn people over (nearly 24% per game) will be a big factor. Both teams are solid on the offensive glass, but Southern Miss has been better at defensive rebounding. With both teams being good at getting to the FT line and both being bad about sending people to the line, there could be a combined 60 free throws shot and likely a 2 and half hour game.
In the end though, playing junk yard basketball in CUSA is not the same as playing it in the Big 12, and I don't think Southern Miss' score by committee system will work against us. I'm guessing the Cats will force turnovers at a clip in the low 20s and the Cats will win o-boarding and FT rate, probably with a 40%-40% game. Then it comes down to eFG% and it doesn't look like Southern Miss can match us, let alone outshoot us. If the Cats hit shots at a reasonable clip, things could get real comfortable for Cat fans by early in the 2nd half.
Cats 73 – Golden Eagles 60
Discuss on the board: http://goemaw.com/forum/index.php?topic=19870.0