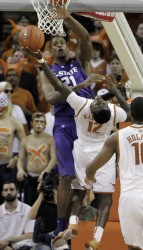 In a previous blog I broke down K-State's defense and its ability for force turnovers, something K-State has been very good at this season, but calling it "40 Minutes of Distress" was a bit much. The game by game trends have shown K-State is able to play 20 good minutes much of the time, but especially on the road, putting together a 40 minute game has been a problem. This is a major reason the Cats sit at 6-6 in the Big 12 and firmly on the NCAA bubble instead of battling Baylor and Iowa State for 3rd place.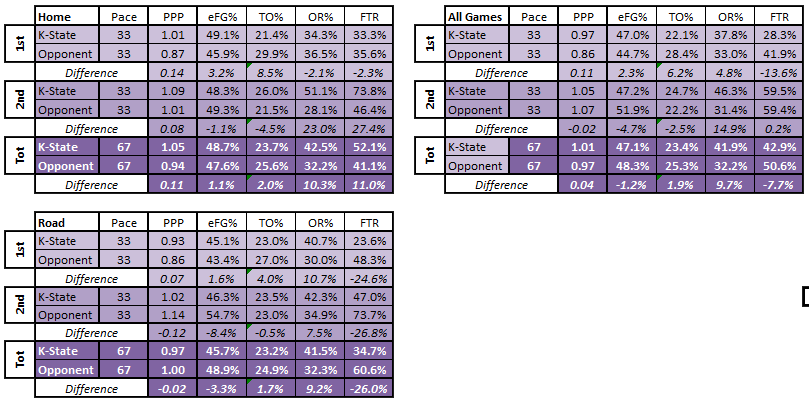 The charts above break down the advanced stats (pace, points per possesion, effective field goal percentage, turnover percentage, offensive rebound percentage, and free throw rate) for Big 12 games only. The top left chart is home Big 12 games, the bottom left chart is Big 12 road games, and chart on the right is all Big 12 games. In every one K-State has shown to be a pretty good team in the first 20 minutes, but the 2nd half has been a struggle, especially on the road.
Most alarming is the 2nd half shooting by opponents. The home eFG% for opponents of 49.3% is bad enough, but on the road the 54.7% allowed is terrible. Overall opponents shoot over 7% better in the 2nd half, and over 11% better in the 2nd half on the road. Also, K-State consistently is able to force TOs at a high rate in the first half, but in the 2nd half that number drops dramatically. K-State's OR% and FTR numbers both stay more consistent, though the opponent's 2nd half FTR on the road is an alarming 73.7%. Its clear to see the biggest weakness in the 2nd half has been getting outshot, and on the road outshot by over 8%. K-State's lack of ability to limit opponents efficiency in the 2nd half of games, and especially to force tough shots and turnovers, is a major reason we've seen blown double digit leads and an inability to finish games the way Frank's first 4 teams were able to on a more consistent basis. If K-State wants a chance at the NCAA tournament (and to pass Texas to finish 5th in the league) then this trend will have to be fixed in the last 6 games.
Discuss on the board: http://goemaw.com/forum/index.php?topic=19135.0