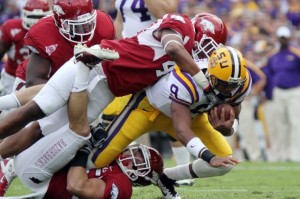 Arkansas Defense
Arkansas' defensive coordinator has already been fired, so its clear what the weakest phase of this football team was this season. Overall the Razorback defense was pretty average, finishing #51 nationally in total yards, #27 in pass defense, #79 in rush defense, and #37 in in scoring defense. The key stat to look at going into our match-up is how Arkansas defended the run. Arkansas' yards per play and points per play were #50 and #41 nationally, finishing the season at 5.29 yards per play and .32 points per play. 
When looking at game by game results, the Arkansas rush defense was very up and down. While facing 4 national top 30 rush offenses, the Razorbacks allowed nearly 200 yards 5 times. However, they were also able to contain two pretty solid rush offenses in South Carolina and Mississippi State, holding them to 79 and 84 yards respectively. One of the more interesting aspects of their run defense is how well can Arkansas handle teams that utilize the QB run game. Only 1 SEC team averages more than 10 rush attempts (not including sacks) from their QB (South Carolina). A couple more average around 7 to 8 attempts (Auburn, Mississippi State, and Ole Miss). As stated above, Arkansas handled Mississippi State and South Carolina well, had a decent day (151 yards) against Ole Miss, but Auburn ran all over them (291 yards).  LSU's QB Jordan Jefferson had his best running day on the season against Arkansas, averaging over 7.5 YPC on his 7 rushing attempts. In addition they allowed Texas A&M to have a huge rushing day as the Aggies gained 381 yards at over 7 yards per carry and A&M QB Ryan Tannehill averaged 11.2 YPC on his 5 attempts. Keep in mind K-State will utilize more QB run game than any team they've seen by a large margin. Taking out sacks, K-State averages over 21 rushing attempts from the QB position. On average Arkansas faced 36.9 total rush attempts per game (without sacks) while K-State averaged 44.2 rush attempts per game. Arkansas also finished in the bottom half of the SEC in tackles for loss at 5.5 per game, but K-State was last in the Big 12 in tackles for loss allowed. K-State was very consistent running the football and in only 2 games finished with less than 150 yards rushing and only four times with fewer than 4 YPC. It will be interesting to see how Arkansas defends the run schematically; the two most successful defenses against K-State not only loaded the box, but loaded the line of scrimmage by bringing up linebackers and safeties. Both used as many as 6 or 7 players on the LOS in an attempt to disrupt K-State's blocking schemes and confuse option reads.
Against the pass Arkansas was more consistent game by game, as only 1 opponent threw for more than 250 yards, only 3 had more TDs than INTs, and less than half threw for greater than 60%. They also allowed a respectable average of 6.3 yards per attempt. Arkansas finished in the middle of the SEC in sacks finishing with 22 total for less than 2 sacks per game. They also were average in interceptions with only 11 on the season. More than half of the pass offenses of the pass offenses finished in the bottom 30 nationally in pass offense though, so they didn't face the type of offenses Big 12 defenses see on a regular basis. Granted, K-State fits in the same category, finishing #109 in pass offense. However, on a regular basis during the season K-State's pass offense complimented their running game well. The Cats had zero games with more INTs than TDs and only had 5 INTs for the season. In 2 of the last 3 and 3 of the last 6 games Klein also averaged 10 yards per attempt or better, though he also finished completing less than 60% of his passes.
Forcing turnovers is another key stat to look at and Arkansas only forced 19 on the season. When you combine their lack of sacks, tackles for losses, and turnovers it paints a picture of a pretty passive defense. Meanwhile K-State was the best in the Big 12 in protecting the football with only 13 turnovers on the season. Keep in mind 5 of those turnovers came in the dreadful opening game against Eastern Kentucky and 3 came in the overtime win against Texas A&M. In half their games K-State didn't turn the ball over at all and in 3 others they only had 1 turnover. As for giving up big plays, Arkansas finished in the middle of the SEC, while K-State was near the bottom of the Big 12. K-State was the best team in the Big 12 in converting on 4th down, but average converting 3rd downs. Arkansas was average stopping opponents on 3rd downs and on 4th downs. Finally, K-State's offense was one of the top 3 teams in the Big 12, scoring touchdowns 67% of the time in the redzone while Arkansas allowed touchdowns 58% of the time.
Individually the Razorbacks are led by linebacker Jerry Franklin (93 tackles, 10 tackles for loss), linebacker Alonzo Highsmith (73 tackles, 10.5 TFL, 3.5 sacks), safety Tramaine Thomas (87 tackles, 5 INTs), and safety Eric Bennett (69 tackles, 3 INTs). Up front defensive ends Jake Bequette (8.5 TFL, 8 sacks, 4 forced fumbles) and Trey Flowers (5.5 TFL) are the biggest playmakers along with solid noseguard Byran Jones (45 tackles, 3.5 TFL).
What will happen in Jerry's World?
K-State's biggest problems this year came against defenses that force the issue and make a lot of plays. OSU, OU, and aTm were all at the top of the top Big 12 teams in interceptions, tackles for loss, sacks, and forced fumbles. Arkansas is average at all of those things and has been inconsistent against the run. They also haven't faced a team that will do the things K-State does and firing their defensive coordinator (even if they were poor defensively) likely won't help. This looks like a team that K-State can force the issue against with their power running game, option football, and mix in some play action passing game. Arkansas defense should also allow K-State to control clock and win time of possession by a large margin, this will greatly help out the Wildcat defense by keeping Arkansas' best unit off the field. As a result this a pretty solid match-up for K-State and as long as K-State doesn't have an unconventional day where they turn over the football or can't get any running game going, the offense should be able to move the ball and put some points on the board.
Discuss this on the message board: http://goemaw.com/forum/index.php?topic=17808.0