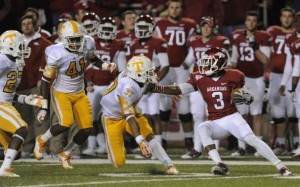 Arkansas Special Teams
The Razorback special teams unit has had multiple big plays on the season and the Cotton Bowl could very well be decided by this phase of the football game. When looking at the many facets of this unit one enormous things jumps out; Arkansas' punt return unit and their kickoff return unit have combined to score 5 touchdowns on the season. That's more return touchdowns than any other team in college football. The Razorbacks rank #15 nationally in punt returns at 12.8 yards per return and have scored 3 touchdowns. Their main threat at punt returner is Joe Adams (16.19 per return, #3 nationally) who had 2 returns for TDs and 174 total punt return yards to open the season against Missouri State in addition to a spectacular 60 yard return against Tennessee. There is no question that with Adams that they have an explosive unit, but when you look at the numbers they can be held in check; in 9 of their games they averaged 7.0 yards per return or less. The good thing for K-State is that our punt return coverage has been good for most of the season. First, Ryan Doerr has been really good punting the ball, averaging 40.5 yards on his 59 punts. More importantly only 16 (27%) of his punts have been returned. While the punt returns allowed have gained a decent (but not great) 8.1 yards per, teams haven't been able to gain a great advantage against us with punt return and no one has scored on a punt return against K-State this season.
Arkansas also possesses great kickoff returners with Dennis Johnson and Marquel Wade both averaging more than 25 yards per return and each with a touchdown on the year. K-State's Anthony Cantele has been decent on kickoffs and has kicked 19% of his 73 kickoffs for touchbacks. However, K-State's kickoff coverage has been spotty, especially in 2 of our last 3 games allowing Texas A&M and Iowa State to both average more than 24 yards per kickoff return. The conditions at Jerry's World will make the wind a non-factor; it will be interesting to see what strategy K-State uses in their kickoff unit against such a dangerous return game. While K-State has allowed teams to get some decent return yardage, no one has scored, and we have still held teams on their half of the field even when we allow longer returns.
At kicker SO Zach Hocker is solid, hitting 75% (18/24) this year after hitting 84% (16/19) as a FR, but he has missed 4 of his last 11 attempts. On the season he has hit 53/54 PATs. For K-State Anthony Cantele has hit 77% (17/22) on the season, but has been good on his last 7 attempts and hit 9 of his last 10. Cantele is 46/47 on PATs.
K-State's kickoff return unit took a big hit with the loss of Tyler Lockett. Tramaine Thompson has filled in well, but he hasn't shown the explosiveness that Lockett did. Through the Oklahoma State game (when Lockett got hurt) the Wildcats were averaging nearly 27 yards per kickoff return. And the 4 games (Tech, KU, OU, OSU) Lockett took over as the main returner, K-State averaged 30 yards per return and scored 2 touchdowns. Without Lockett, the production has dropped to 21.6 yards per return over the last 3 games. For Arkansas Zach Hooker has an excellent touchback percentage of 41% (on 86 kickoffs). Arkansas' kickoff return coverage has been really good to go with Hooker's kicking, allowing only 22 yards per return an no touchdowns.
At punt returner, Tramaine Thompson has been a solid threat, averaging 13 yards per return, while on the season K-State averages 8.7. Covering punts is Arkansas' biggest special teams weakness, giving up 14.4 yards per for the season, and their losses to both Alabama and LSU were partially turned by giving up big returns. However, it is fair to say outside of those 2 games their coverage has been solid. Arkansas punter Dylan Breeding is very good, averaging 45.2 yards per punt, however opponents have been able to return 49% (24/49 punts) of his punts, so opportunities will likely be there to get a return if the defense can get stops.
As far as blocking kicks, Arkansas has none on the year while K-State has Rafael Guidry who has 4 blocks on his own. On the season, K-State has given up 3 blocks while Arkansas has given up only 1.
What will happen in Jerry's World?
K-State will have to be very careful in kickoff and punt return coverage in this game. Even with Adams' return abilities, the Arkansas punt return unit concerns me far less because Doerr has consistently punted high kicks that allow solid coverage and generally force fair catches. The weather not being a factor will help this even more. However, kickoff returns could be a factor, and K-State has been far less consistent than Arkansas in kicking into the end zone for touchbacks. Throw in the explosiveness of Arkansas' return game and K-State's struggles covering the last few games and there is a legit concern. The Cats can't afford to give Arkansas' explosive offense short fields by allowing kickoff returns to get near midfield. On K-State's side, I like our chances to turn the game with our punt return unit over our kickoff unit. Thompson has been solid at both, but he seems to be better at returning punts. Of course this will require some stops on defense to gain opportunities. If the game is close and comes down to a late field goal, I like our chances with the way Cantele has been kicking the ball. Plus Guidry's ability to get penetration and block kicks could be a factor on FGs or PATs. Its hard not to give Arkansas a slight advantage because of their return game, but its not overwhelming.
Discuss this on the boards: http://goemaw.com/forum/index.php?topic=17469.0