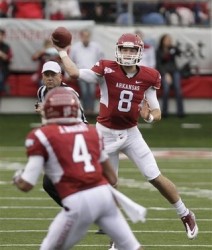 Arkansas Offense
The Razorback offense will look familiar to K-State fans as they feature a pass oriented attack similar to what the Wildcats see often in the Big 12. Pass yards account for nearly 70% of their total yards (2nd in the SEC), a percentage nearly identical to Oklahoma and Oklahoma State (more comparisons to them later). Arkansas' offense also features big plays, leading the SEC in most long scrimmage play categories and leading the SEC in yards per attempt through their passing game. They are also very good at putting points on the board (2nd in the SEC) and have scored at least 40 points 6 times and at least 30 ten times (only LSU and Alabama held them under 20). Their running game is solid, averaging 4.3 yards per carry. However, they are very up and down on a game by game basis and in 7 games averaged less than 4 yards per carry. While their running game only accounts for 31% of their yards it accounts for 47% of their offensive plays, so they are a pretty balanced attack that gets most of their big plays through the air. Their per play numbers offensively are also very good, ranking in the Top 15 in the nation in yards per play (6.51, #13) and points per play (.55, #11). For the SEC they play at a fast pace, ranking near the bottom of the SEC in time of possession. They average 68.5 offensive snaps per game, which is good for 2nd in the SEC (average of 65.7 plays per game). However, it doesn't compare to the Big 12 where teams average 76.8 offensive snaps per game; by comparison K-State's average of 68.8 is last in the Big 12. This is one area where its hard to compare leagues. Teams in the SEC simply don't play at the pace that Big 12 teams do; only 1 SEC team averages more than 70 offensive snaps a game. Meanwhile K-State is the only team in the Big 12 to average fewer than 70 snaps, 3 teams average more than 80 offensive snaps, and 7 teams average more than 75.
The easy perception is that Arkansas must be really dynamic on offense because they are putting up pretty good numbers in the SEC, the home of the "best defenses in the country". While in part that perception is true, (Alabama and LSU are the two best defenses in the country) on average the national rank in total defense and scoring defense that Arkansas faced was #51 in both categories. South Carolina also featured a Top 15 defense, but other than those 3 most of the defenses Arkansas faced were pretty average. That's not to say Arkansas doesn't have a very good offense, because they do, but its also not true that in the SEC they faced Top 15 defenses on a weekly basis. Granted, the defenses in the Big 12 aren't great; on average K-State faced defenses ranked #76 in total defense and #68 in scoring defense. Arkansas does a pretty good job of taking care of the football with 19 turnovers on the season, but they only had 1 game without a turnover and had 2 or more in half their games. Arkansas' redzone offense was solid, scoring on 87% of their attempts. However, only 63% resulted in touchdowns, ranking them in the middle of the SEC.
For comparison's sake to familiar Big 12 opponents, Arkansas' offense will most resemble Oklahoma State or Oklahoma. Arkansas will attempt to run the ball a bit more, 47% of their offensive plays are runs compared to 41% for OSU and 44% for OU. In percentage of yards running and passing the teams are nearly identical, all 3 gain 31% of their yards on runs and 69% through the air. OSU and Arkansas average an identical 8.4 yards per pass attempt, OU averages 7.9. Arkansas' running game is more similar to OU's, the Razorbacks average 4.3 yards per carry compared to 4.6 for OU (OSU averages 5.4 YPC). All 3 teams don't feature much QB run game as none of their QBs have positive rushing yards on the season, both Wilson (Ark) and Jones (OU) had around 20 actual carries when you take out sacks and many of those are probably scrambles for positive yardage. Arkansas is also closer to OU in efficiency; on the year both teams completed about 63% of their passes. OSU completed 72%. Of course the fear in choosing OSU and OU to compare to is that they gave K-State's defense its worst two games of the season; both threw for 500+ yards and 10+ yards per attempt. Similar to both teams, Arkansas will use a lot of 1 back, multiple receiver formations. There running game features a lot of zone blocking with some power running game concepts (pulling linemen), and in the passing game quite a few boot passes, throws to backs out of the backfield, and underneath routes. However, they aren't afraid to throw downfield and they have multiple receivers that can get behind our secondary.
Individually Arkansas is led by quarterback Tyler Wilson, arguably the SEC's best quarterback. Wilson threw for 285 yards per game and finished with a solid 22 touchdowns to only 6 interceptions. In the running game Arkansas was led by Dennis Johnson and Ronnie Wingo, both big backs with good speed averaging 6.3 and 4.6 yards per carry respectively. Broderick Green is their biggest back (#244) and led the team in rushing touchdowns. Arkansas has a very good group of receivers, led by the SEC's leading receiver Jarius Wright with 63 catches, 1029 yards and 11 TDs. Joe Adams (49 catches, 630 yards) is also a dynamic punt returner and their 2nd leading receiver; both he and Wright are smaller speed guys. Adams has 138 yards rushing, but hasn't been used much (running in the last half of the season.  The Razorbacks also have some nice big targets as well in a trio of 6-3 players; receivers Cobi Hamilton (16.65 yards per catch) and Greg Childs, and tight end Chris Gragg (40 catches). Both Johnson and Wingo have caught plenty of balls out of the backfield as well, combining for 41 catches. The offensive line has a mix of experience and youth with 2 seniors, a junior, and 2 sophomores listed as starters.
K-State will have to show improvement from the OSU and OU games; at minimum holding Arkansas to its average in yards per attempt ( around 8.0) and slowing down their running game (less than 4.0 YPC and less than 150 yards). A big key will be forcing turnovers, something K-State's defense has been very good at and an area Arkansas has had some problems. The Wildcat defense has forced at least 1 TO in every game and forced at least 2 in 9 games allowing K-State to have negative turnover margins in only two games on the year. K-State has returned 3 interceptions for scores and Arkansas has had 3 returned for scores. K-State showed against OSU that they could compete in high scoring game against a quality opponent, but the defense will need to perform better to take some of the pressure off of offense and special teams. K-State's defense has faced plenty of good offense this year, so I don't think anything Arkansas does will be a surprise. On the year the average rank in total offense and scoring offense of K-State opponents has been #40 and #46 respectively. The Cats faced 6 of the Top 15 offenses in total yards and 4 of the Top 15 in scoring. As a result K-State finished pretty average, #75 in yards per play (5.66) and #72 in points per play (.39). This was still good enough to finish in the middle of the Big 12 in scoring defense and total defense and K-State was helped a lot by showing a large improvement in rushing defense.  K-State also compensated for many of its defensive issues by forcing turnovers and limiting penalties and having an offense that controlling the clock on offense. K-State faced 70 defensive snaps per game, below the Big 12 average of 75 defensive snaps. A concern all season has been getting pressure on the quarterback, K-State finished in the middle of the Big 12 in sacks and only 1 or no sacks in 5 conference games. Arkansas was in the middle of the SEC in sacks allowed, so there could be some opportunities.
What Will Happen in Jerry's World?
Like I said above, K-State's defense has faced plenty of high scoring, explosive offenses this season. I do think Arkansas' offense is very good, but I'm not sold that it is better than 3 or 4 that K-State has already faced. In most games this year, K-State managed to hold really good offense to around 400 yards and 35 or fewer points. That's a lot of each, but we've already proven we can winning football that way. I don't see Arkansas scoring in the 40s or gaining 500+ yards. It will be up to the offense and special teams to make up the difference (I'll address those in seperate posts), but I like the chances for our defense to at least allow those phases of the game to make the plays K-State will need to win.
Discuss on the boards: http://goemaw.com/forum/index.php?topic=17448.msg416878#msg416878